Clinton Foundation Also Took Money from Human Rights-Abusing Qatar World Cup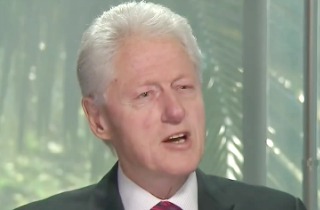 This morning, Swiss police arrested several top FIFA executives and plan to extradite them to the U.S., where the FBI and the Justice Department will slam them with multiple charges of racketeering, conspiracy and corruption. Soccer's governing organization has long been suspected of severe corruption, and this event is expected to result in numerous arrests, embarrassed international world leaders, and the possible revocation of a World Cup or two.
At this point, the journalism world should put every negative institution into a grab bag, pull one out at any given time, and see whether it's somehow — even remotely — connected to the Clinton Foundation. Seriously, we could tell you that they took money from the Qatar 2022 Supreme Committee — the group responsible for countless human rights abuses and widely suspected of bribing FIFA for the rights to host the World Cup in 2022 — and few would be surprised at this moment.
According to the Daily Beast, they totally did that! Specifically, the Supreme Committee donated somewhere between $250,000 and $500,000 to the Foundation in 2014 — years after they won the bid — and the government of Qatar donated up to $5 million as well, possibly to appease Bill Clinton, who was an honorary chairman of the U.S.'s bid committee for the 2022 World Cup.
"When the U.S. lost the 2022 bid to Qatar, Clinton was rumored to be so upset he shattered a mirror," they wrote. "But apparently Qatar tried to make it up to him."
So far, over a thousand workers have died in Qatar while building the World Cup's facilities, and at this rate, according to the International Trade Union Confederation, over 4,000 people will die before the first game begins. In addition, the DOJ investigation into FIFA will also examine whether Qatar bribed the association for the rights to host the World Cup in a country where it makes absolutely no geographical sense to host a soccer tournament, unless you have money.
[Image via screenshot]
—
>> Follow Tina Nguyen (@Tina_Nguyen) on Twitter
Have a tip we should know? tips@mediaite.com