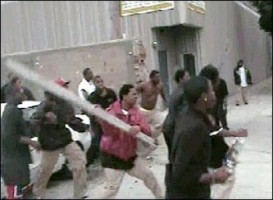 It's one thing to follow FBI agents as they decode mysterious human remains in the show Bones on the Fox Network, or even the posh princesses of the Upper East Side on Gossip Girl as they deal with cocaine induced overdoses in hotel rooms on the CW, but what happens when those daunting images aren't just for our entertainment, accompanied by actors and diluted with comedic/dramalicious story lines?
Following the brutal beating and death of Derrion Albert, 16, in front of his Chicago High School last Thursday, a three minute video shot by a fellow student on her cell phone was released yesterday, ultimately providing the evidence which led to the arrests and charges of three teenagers.
The disturbing video which shows Albert being hit over the head with a wooden board and then stomped on after falling to the ground, can be seen on various news websites with the preface: "WARNING: GRAPHIC VIOLENCE".
And while the victim's family was "squeamish about watching the footage", they did not have a problem with the video being released "as long as it help[ed] identify who beat Derrion to death."
The subtext of the violent images are reminiscent of the controversial AP death photos of mortally wounded Lance Cpl. Joshua Bernard moments before his death in Afghanistan, which were released without the blessing of his family who were strongly opposed to the photo's publication.
So while the devastating death images helped one family find piece of mind and further distress another one, the question of whether or not these morbid images should be released for public viewing is still vague and unique to each situation.
Because unlike cable television, real life doesn't have the FCC watching its back.
Have a tip we should know? tips@mediaite.com