CNN Benches Tapper, Curiously Opts for Cooper, Lemon for Democratic Debate Instead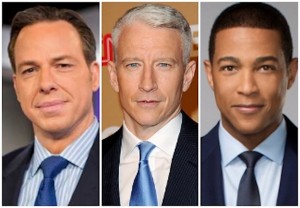 Anderson Cooper.
Don Lemon.
When you see those two names, what do you think of?
Cooper: Best served in the field during big breaking news. Great work during Katrina (which took his career to another level). Love his stuff on 60 Minutes (the swimming with crocodiles package was compelling bordering on insanity). His 8:00 PM show is pretty good, fairly generic in format and the interviews solid.
Lemon: Best served when doing cultural stories, primarily those involving race or celebrity indiscretions. In CNN's world, has grown the most in terms of brand awareness and name recognition in the past few years. Can serve as anchor, host or pundit (triple-threat). Best bet to get his own network daytime talk-show. Stirs controversy with commentary but not simply for the sake of stirring controversy. Agree or disagree, he appears to be authentic, isn't PC and is honest in his convictions.
All of that said, you know what doesn't come to mind?
Politics.
Now, do Cooper and Lemon cover this aspect and particularly the 2016 on their respective primetime programs? Sure. Both have interviewed some of the candidates on the GOP side and both scored significant time with Donald Trump. But no one would ever confuse Cooper and Lemon with Chris Wallace, Chuck Todd or Jake Tapper. Those type of guys are political animals, having covered the White House, presidential campaigns and the Beltway scene as a whole since the beginning of their careers. So when CNN announced who would be its debate moderators for the first Democratic version in October, the only reaction here was, "Huh?" .
And look, I get the same argument can be made regarding Fox's decision to use Megyn Kelly–also not a politics-first host–in the same debate situation in August. But she has anchored election night coverage on several occasions prior, and more importantly, was flanked by Bret Baier and the aforementioned Wallace, bringing balance (for lack of a better term) from a political-gravitas perspective.
Back to the Democratic debate in two weeks, Dana Bash, CNN's Chief Political Correspondent, will also be there. That certainly helps, although if she gets the same amount of airtime she did during the second GOP debate (See: Very little) it may not matter much. Also included is political anchor Juan Carlos Lopez of CNN en Espanol. Interesting that Lopez wasn't chosen for the GOP debate considering Trump's immigration stand, right? So why a fourth moderator for the Democratic debate and not the GOP version, which had almost twice as many candidates? Conservative media will have a field day with this (See: Lopez is there to serve up softballs to Hillary/Sanders, etc on Trump/GOP immigration policy)…that's assured.
But the real question is: Why isn't Jake Tapper working this debate as well? He is the face of the network when it comes to all-things-politics. He hosts State of the Union on Sundays and The Lead (primarily a political program) five days a week for the network. Debates like this are part of the reason Tapper was signed away from ABC over two years ago. And if we're looking at ratings performance with Tapper, that certainly isn't an issue here, with CNN scoring nearly 23 million viewers with the GOP debate…making it it's most-watched program in its 35-year history.
So what's the game-plan here? Perhaps CNN is looking to present something more sensational here, more entertaining…something more about emotion than policy from the candidates. If that wasn't the case, we'd see the by-the-book Wolf Blitzer sitting at the moderator table. John King is more than capable as well. Either way, Tapper being MIA on this one makes little sense. Is it because it's a different party on display? What difference should that make exactly?
The Democratic party finally gets around to debating on October 13th. The broadcast venue once again is CNN.
Anderson Cooper and Don Lemon will make up half the moderating team. Both are talented on a variety of levels, but not the first two guys you think of when it comes to political debate.
Meanwhile, Jake Tapper is on the sidelines while a fourth moderator who sure would have been useful in the GOP debate suddenly appears for the Democratic version.
Just another day in the curious world of cable news…
— —
Follow Joe Concha on Twitter @JoeConchaTV
Have a tip we should know? tips@mediaite.com