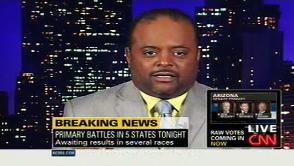 CNN lived up to its slogan "CNN=Politics" last night, with significantly more coverage of the various important primaries than MSNBC or Fox News.
It was a bragging point for the network (which drew a harsh response from MSNBC), but if the ratings don't see a bump was it worth it? CNN will argue – yes.
CNN kept the focus on primaries throughout prime time and beyond, and was the only network to cover Sen. John McCain's victory speech live. MSNBC stuck to its usual prime time, with periodic coverage during those hours and brief cut-ins after 10pmET. Fox News did the same – very little coverage during the actual prime time programs, but Bret Baier around to update with breaking news (beyond prime time as well).
Edie Emery, a D.C.-based senior director of PR for CNN, tweeted last night: "Where is 'The Place for Politics' during the primaries tonight? Oh, wait, they're in tape."
That shot at MSNBC got a response from a spokesperson, who told Inside Cable News, "CNN should spend less time tweeting and more time figuring out how to stop their continued slide into irrelevance."
Quite a slam – but CNN will make the case that their so-called 'slide into irrelevance' is a separate issue. If you wanted to see primary results and analysis last night, you had to turn on CNN. Will that equal viewers? Maybe (we'll find out around 4pmET). But it does, well, equal politics.
It was an interesting decision, and one CNN doesn't always make. While the other cablers also devoted little coverage to the May 18 primary, CNN didn't cover it much either. In fact, they made the odd decision to air a pre-taped one-hour Larry King interview with Mick Jagger right at 9pmET. Last night the priorities changed (or returned) and King was there covering the primaries.
—–
» Follow Steve Krakauer on Twitter
Have a tip we should know? tips@mediaite.com