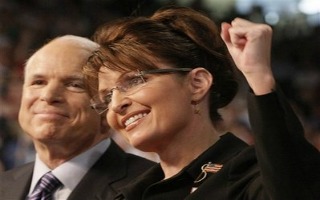 A competitive Republican Senate primary in Indiana has ignited plenty of infighting among the GOP both in the Hoosier State and across the country – but not quite enough for CNN's "Political Ticker" blog. CNN opted to pit former 2008 running mates Sen. John McCain and former Alaska Gov. Sarah Palin against one another in a proxy race for the soul of the Republican party when they published "McCain Vs. Palin in Indiana Senate Race" on Friday. Of course, the two Republicans with dramatically differing styles and ideologies have been "pitted" against one another before.

RELATED: John McCain Calls 2012 Campaign The 'Nastiest I Have Ever Seen'
Palin and McCain find themselves on opposite sides of the political divide in the Indiana race, with McCain backing his longtime colleague Sen. Richard Lugar against Palin, who is supporting insurgent State Treasurer Richard Mourdock.
While the two remain, by all accounts, cordial and have run up against one another in intraparty feuds in a number of races in this and the 2010 midterm election cycle. They have made great strides, however, to ensure that there were no outward signs of tension between the two prominent Republicans.
But that has not stopped CNN from creating some:
McCain, the senior Arizona senator, recorded a radio ad for Lugar, set to run in the state on Friday, in which he highlights the six-term incumbent's opposition to "Obamacare" and efforts to keep the United States safe. Lugar is the ranking Republican on the Senate Committee on Foreign Relations.

"Some in Indiana are claiming Dick Lugar is Obama's friend. That's ridiculous, and I know firsthand because I fight alongside him every day in the Senate," McCain said in the spot. "Dick Lugar is a patriot and a hero, and we need him in the United States Senate."

Sarah Palin announced her support of Mourdock in a Facebook post. She said Lugar's service is "appreciated," but "it's time for the torch to pass to conservative leadership in Washington."

"Indiana deserves a conservative in the Senate who will fight for the Hoosier State, uphold our Constitution, and not just go along to get along with the vested interests of the permanent political class in D.C.," Palin wrote.
The National Journal, too, followed a similar path on Friday, when they published "Indiana Senate Race Pitts McCain Vs. Palin."
Palin has a history of backing insurgent Republican primary challengers to multi-term office holders in the GOP. She backed Joe Miller over Alaska Sen. Lisa Murkowski and Christine O'Donnell over Rep. Mike Castle in Delaware in 2010.
McCain and Palin were "pitted" against one another in 2010 – in the Maryland Republican gubernatorial primary when Palin backed Brian Murphy over McCain supported former Gov. Robert Erlich.
Lugar, who has served in the Senate since 1976, will face off against Mourdock in the GOP primary on May 8.
Have a tip we should know? [email protected]