CNN Wins Town Hall Ratings Battle, But MSNBC, Trump and Fox All Can Also Declare Victory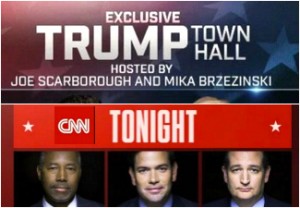 And when the dust settled, it was no contest…
CNN's GOP Town Hall — Part 1 of a 2-Part Impromptu Series — nearly doubled MSNBC's even-more-impromptu Donald Trump Town Hall in the key 25-54 demo from 8:00-9:00 PM EST, 629K to 341K (Fox minus Bill O'Reilly with Eric Bolling subbing during the 8 o'clock hour, finished second at 373k). On the total viewers front, Fox takes home first place: 2.32 million vs. 2.06 million for CNN and 1.43 million for MSNBC.
So who's the big winner? Dare I say everyone, and here's why: MSNBC may have finished third both in the demo and total viewers, but here's some context: That 341k in the demo is 50 percent higher than MSNBC's numbers the night before (All In with Chris Hayes, 223k) and about 45 percent higher than the night before that.
If MSNBC sat idly by and didn't put the Trump event together at the last minute, it's likely a 4-to-1 audience ratio victory for CNN. But Trump gave the network a relatively significant boost and undoubtedly ate into CNN's audience. Because remember: CNN averaged over 900k in the demo for its previous two political Town Hall specials. And while 629K is still quite impressive and wins the night, it is noticeably down if using that 900K as a gauge… and likely because MSNBC created the GOP counter-programming it did. Again, context.
Of course, that's not to say that CNN still shouldn't be taking another bow: So far this year, the network has now held four Town Halls — ones that were scheduled with only days and not weeks to promote — that have generated huge ratings victories in the demo that otherwise would not have happened.
To that end, it begs the question if Fox will now be jumping into the Town Hall fray. The network did add another Fox Business GOP debate — one that produced that channel's second-highest audience in its history — but nothing has happened thus far on the Town Hall front. At this time, FNC still hasn't announced any plans to do so. But as we've seen, nothing stays the same too long in this election season. And if Roger Ailes can somehow pull off a Town Hall moderated by Megyn Kelly and Bret Baier featuring Trump alone on a stage with the two of them, that scenario may be too tasty to at least not pursue.
As for Trump, those writing that he somehow comes out a loser here need to consider this fairly glaring point: By going on MSNBC last night, he had 1.4 million more people watching him (not to mention millions more absorbing clips from the event played everywhere afterward and today) than he would have had if he simply stayed on the sidelines. So while four of Trump's five rivals get one night of primetime and a big audience watching this week (John Kasich on Hardball for an hour before Trump Wednesday night being the only exception), Trump gets two nights of big audiences on two different networks. That's not losing. That's shrewd.
In the end, CNN chalks up another win with its fourth Town Hall of the year. It will come out on top with plenty of room to spare again tonight.
Trump gets two Town Halls to help cement a likely victory in this Saturday's South Carolina primary.
MSNBC announces a Town Hall of its own about 24 hours before it happens and increases its usual audience by 50 percent.
Fox doesn't have to lift a finger in terms of scrambling time or resources and still finishes with silver and gold.
The usual suspects will talk about winners and losers last night.
But when applying a thing called context, all three — and yes, even Trump — can declare victory.
— —
Follow Joe Concha on Twitter @JoeConchaTV
This is an opinion piece. The views expressed in this article are those of just the author.