CNN's Mike Rowe Takes on Melissa Harris-Perry: 'No Limit to What People Can Be Offended By'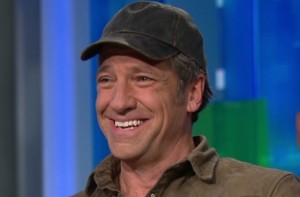 Host of CNN's Somebody's Gotta Do It Mike Rowe took to his personal website to call out MSNBC host Melissa Harris-Perry's admonishment of a guest for using the term 'hard worker,' which she insinuated was offensive to the legacy of slavery.
The reality host was responding to a reader's question, who asked about the controversial comments. "[T]here is no longer a limit to what people can be offended by," Rowe lamented.
He began by pointing out how odd it is that Harris-Perry believes something so extreme should exemplify hard work. "That's a bit like hanging images of rape and bondage to better illustrate the true nature of human sexuality."
"…Slavery is not 'hard work;' it's forced labor," he continued. "There's a big difference. Likewise, slaves are not workers; they are by definition, property. They have no freedom, no hope, and no rights. Yes, they work hard, obviously. But there can be no 'work ethic' among slaves, because the slave has no choice in the matter."
"Workers on the other hand, have free will. They are free to work as hard as they wish. Or not. The choice is theirs. And their decision to work hard, or not, is not a function of compliance or coercion; it's a reflection of character and ambition."
Rowe said that like Harris-Perry, he kept a picture in his office to remind him of what hard work is: "That's me, squatting next to the most disappointing toilet I've ever encountered, preparing to clean it out with a garden trowel. I keep it there to remind me of what happens when you need a plumber but can't find one."
"It's also a nice reminder that a good plumber these days has a hell of a lot more job security than the average news anchor," he joked.
[Image via screengrab]
——
>>Follow Alex Griswold (@HashtagGriswold) on Twitter
Have a tip we should know? tips@mediaite.com