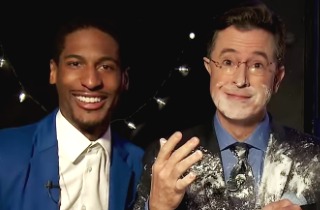 Stephen Colbert keeps fleshing out what his new Late Show will look like. And with the announcement of Louisiana-based musician Jon Batiste as Colbert's bandleader, it's clear his Late Show will have a little New Orleans flair.
Batiste opened up to Esquire today about this new partnership. He does a lot of on-the-street performances, which he refers to as "social music," and he has a lot to say about how people experience and listen to music these days.
But as for Colbert, Batiste is clearly very excited to work together with the late night host. He said, "We're all about people, and bringing people into the spotlight. Not just the ones who are talented or wealthy, but the everyday person. Music is to be played with them, not just for them. That's how he runs his show and that's what he thinks about and that's who he is. It's a match made in heaven."
And he opened up about what they're trying out in the lead-up to Colbert's September debut:
I think that the combination of Stephen's team and my band is going to produce things that I couldn't even think about. I'm not sure what we're going to do to break the mold specifically, but I know we have the right people in the room to do something like that. I'm really just trying to look forward to it with an open perspective, because I know things I've thought of doing and the platform of the television show that ties into mainstream America five nights a week is a great platform to be able to do it.
And if you still haven't seen Batistie's amazing Colbert Report performance from last year, you can check it out here, via Comedy Central:
[image via screengrab]
— —
Follow Josh Feldman on Twitter: @feldmaniac
Have a tip we should know? tips@mediaite.com
Josh Feldman - Senior Editor