College Hoops Twitter is Blaming Ted Cruz Curse for Texas Tech Losing National Title Game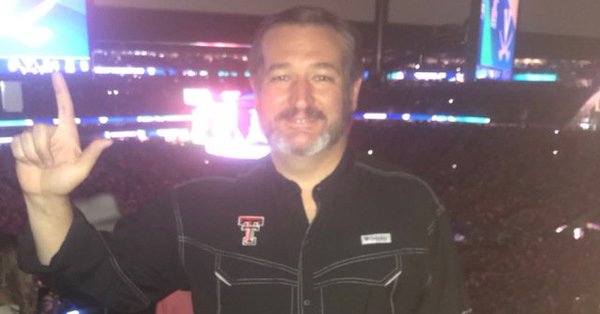 The Texas Tech men's basketball game played in the NCAA title game last night, opposing a similarly defensively minded the University of Virginia eager to reclaim their reputation after being the first top-seeded team to lose to a 16 seed last year. Senator Ted Cruz (R-TX) was in attendance at the U.S. Bank stadium in Minneapolis in support of the Lubbock-based team but ultimately saw his Red Raider team lose in a thrilling OT game.
Cruz posted a photo on Twitter of his attendance, and because the Internet is what it is, many immediately blamed Texas Tech heartbreaking loss on the attendance of Senator Cruz.
With less than a minute remaining, and Texas Tech nursing a one-point lead, Cruz tempted fate with the following tweet:
35 seconds. ONE point LEAD. GO RED RAIDERS!!! #1 Defense. pic.twitter.com/S5XBefCsk1

— Ted Cruz (@tedcruz) April 9, 2019
Seeing as Texas Tech lost after Virginia's DeAndre Hunter hit a late three to send the game into OT, many on Twitter pointed the finger of blame directly at Cruz:
this is why they lost https://t.co/WNIa0IEDJ1

— Harry Lyles Jr. (@harrylylesjr) April 9, 2019
Sorry, @TexasTech …you never had a chance. https://t.co/PwKod9ezDC

— Mike Wickett (@mikewickett) April 9, 2019
It felt like the game could go either way. Turns out Texas Tech was doomed. #jinx https://t.co/rpzvKSwOJ9

— Mike Walsh (@WalshMike) April 9, 2019
Ted Cruz is the kiss of death. https://t.co/iIarQvJMFW

— Matt Ortega (@MattOrtega) April 9, 2019
So, I see Zodiac killed Texas Tech.https://t.co/lnlhUUSC5I

— Rick Wilson (@TheRickWilson) April 9, 2019
Have a tip we should know? tips@mediaite.com