Comedian D.L. Hughley Says Obama Is 'Closer To Being A White Kid' With His Intellectual Response To Criticisms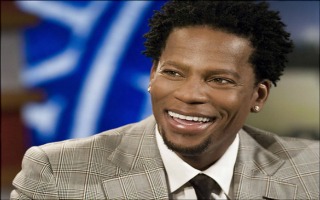 In an interview with SiriusXM Satellite Radio's Ron Bennington, comedian and former CNN host D.L. Hughley criticized President Barack Obama for not showing enough passion. Hughley said that Obama tends to respond to criticism intellectually and is "closer to being a white kid" in that respect. However, Hughley says that Obama's calm demeanor also results in a lack of enthusiasm from the public in the election.

RELATED: Jon Stewart Proclaims Winner In Romney/Obama Comedy Showdown
Hughley appeared on Bennington's interview program, Unmasked, to promote his new book, I Want You to Shut The F**k Up: How the Audacity of Dopes is Ruining America.
There, Hughley offered a critique of President Obama saying that he is not especially impressed with Obama's intellectual response to criticisms he receives from his Republican opponents. Hughely said he would prefer to see Obama "fight fire with fire."
"He doesn't seem to get that you have to be willing at some point to fight fire with fire." Said Hughley. "He's closer to being a white kid. Intellectually, like his experiences are so different from mine that, I should say, he responds like an intellect as opposed to a regular guy."
Hughley went on to say that Obama's lack of tangible passion is one reason why he believes Americans are not yet tuned into the election.
"[H]e is so plain and so nonplussed, people see that as devoid of passion. And that — is somehow what we're missing," Hughley said. "So I think they're reacting like if a woman wants a reaction from you, she has to push your buttons. And I think that's what the country's doing."
Listen to the segment below via SiriusXM Satellite Radio:
h/t Interobang
> >Follow Noah Rothman (@Noah_C_Rothman) on Twitter
Have a tip we should know? tips@mediaite.com