Concha: Lena Dunham's Republican-Raped-Me Story Crumbles as Legal Action Looms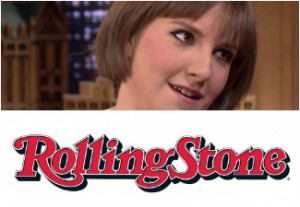 Campus rape has been, and continues to be, a serious problem in this country despite some relatively good news from the Department of Justice on the number incidents apparently being on the decline (down 58 percent between 1995 and 2010 – the most updated numbers available). Still, that doesn't include the many incidents that go unreported. Yet others are merely qualified as "attempted." In other words, there's still a long way to go despite the progress.
That said…it is profoundly disturbing to see one major publication and one actress/author exploit this subject in the irresponsible manner witnessed this week in the form of Rolling Stone's UVA rape "exclusive" and Lena Dunham via her memoir, Not That Kind of Girl. You've likely heard the story around the former by now: Rolling Stone breathlessly reported on a gang rape of a woman named "Jackie" at a fraternity at the University of Virginia in graphic detail. But the story–which got major play by many media outlets and cable news–unraveled after many holes were discovered in her account. Consequently, Rolling Stone retracted this rather large portion of it after initially blaming its source instead of its own sloppiness from the reporter herself (the now-MIA Sabrina Rubin Erdely) to scores of fact-checkers back in New York.
So instead of a spotlight and conversation being cast on ways to further decrease the number of rapes and sexual assaults across the country, the spotlight now shines on anything but that. Which brings us next to Dunham's book. Here's the breakdown on what has transpired:
– Dunham details in her book that back in college (Oberlin)–after a night of getting high on Xanax and cocaine–she was raped by the "campus' resident conservative" named Barry. The incident was never reported to police. Upon the book's release in September, Time magazine specifically writes a column about the incident, stating in the headline it was a " Must-Read". Dunham was paid a $3.5 million advance by Random House.
– Shortly after the book release, Bretibart.com's John Nolte begins to dig into the allegation against Barry and even visited Oberlin to attempt to verify the story. Nolte discovers from many sources that there was, in fact, an easily-identifiable campus conservative named Barry who attended the college at the same time the now-28-year-old Dunham was there. But nothing else adds up: Barry denies even meeting her, a college radio station show (Real Talk with Dumbo) Dunham says Barry hosted apparently didn't even exist. Note: Barry is an uncommon name (it hasn't even made the Top-1000 list since 2004), so finding scores of "Barrys" from Dunham's tenure at a relatively small college didn't happen during the investigation.
– As a result, Barry–forced to take down his social media accounts and now seen as a rapist–hires a lawyer, Aaron Minc. Barry–also in his 20s and not exactly liquid in terms of cash–turns to crowdsourcing to help pay his legal fees. He notes that any money that exceeds said fees would go to charities assisting survivors of rape and sexual assault.
– On Monday, Random House finally comments on the allegation, and says Dunham fabricated the name of her alleged rapist, using the hardly-ever-read copyright page as cover. Here's their statement:
As indicated on the copyright page of Not That Kind of Girl by Lena Dunham, some names and identifying details in the book have been changed. The name 'Barry' referenced in the book is a pseudonym. Random House, on our own behalf and on behalf of our author, regrets the confusion that has led attorney Aaron Minc to post on GoFundMe on behalf of his client, whose first name is Barry.

We are offering to pay the fees Mr. Minc has billed his client to date. Our offer will allow Mr. Minc and his client to donate all of the crowd-funding raised to not-for-profit organizations assisting survivors of rape and sexual assault.
Hell of an apology and explanation, huh? And of course, not a peep from Ms. Dunham–who is still trying to recover from another tale told in the book around the unsettling way she treated her younger sister growing up. Update: Dunham responded Tuesday night via an essay in Buzzfeed, stating "any resemblance to a person with this name is an unfortunate and surreal coincidence." Except, you know, the whole part about her sharing precise details where he worked (radio station, school library) what he wore (purple cowboy boots), what he looked like right down to a flamboyant mustache, and, of course, the all-important political affiliation.
As for the whole copyright excuse, it should be noted that in another chapter on another topic in the book, Dunham specifically states that a different name from her past had been altered "to protect the truly innocent". So if Barry's name was simply a pseudonym as Random House states, she would have offered the same "name changed" disclaimer for him as well, right? Nope.
Of course, Barry's life has been turned upside down (for those who think this random guy with such a distinctive name wants this kind of attention, you're as crazy as the book's author). Remember, Not That Kind of Girl isn't a piece of fiction, it isn't a novel…it's a memoir that has sold tens of thousands of copies and has been written about with mostly glowing reviews by an adoring press that truly believes Dunham is the voice of her generation. The New York Times–which calls her a "cultural phenomenon"–has done over 400 articles mentioning Dunham (all positive) since 2001 alone, according to Newsweek. Of course, the Old Grey Lady hasn't found time to add one more story to the list on this unfolding twist yet, and likely never will.
So was Dunham raped? Only she and the guy with her that night–if it even happened at all–know what transpired. But let's say the incident did occur, which begs the following question: What exactly did "Barry's" political affiliation have to do with anything? If the focus is on the dangers of doing drugs (Xanax, coke) and the result of making it difficult to resist a sexual encounter–as Dunham cautions in the book–does it really matter if its a Republican, Democrat, Libertarian, Independent exploiting the situation in the form of rape? Then again, Dunham has likened Republicans to Nazis before (saying she would never date either one), so why not say one once raped her as well? It's not like any of her many friends on the New York media circuit would dare challenge her on it because conservatives are, of course, evil and stuff.
Rolling Stone. Random House. Lena Dunham.
All had stories about rape to tell. Rolling Stone retracted the story outright, but the suspension on all activity at fraternities at UVA still remains. The cloud is still there, the conversation muddled, real victims set back. Now Random House thinks you're stupid enough to believe Lena Dunham just randomly chose the name "Barry" to use in her rape story. The legal fees will be paid but the damage has been done.
— —
>> Follow Joe Concha on Twitter @JoeConchaTV
Have a tip we should know? tips@mediaite.com