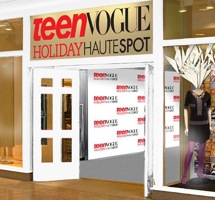 Condé Nast is considering new and different ways to monetize their "most iconic brands," John Koblin reports in today's New York Observer. He even quotes a Condé Nast insider, who reportedly sniffed "do we need Vogue handbags? Gourmet kitchen mitts?" Well, no — though mostly because Gourmet is no longer an "iconic brand" at Condé.
Koblin writes:
But … the days of Condé Nast licensing may not be far behind. There's currently a push within 4 Times Square to expand the brands of the company's most iconic magazines, and Condé Nast executives David Carey and Robert Sauerberg, are leading the charge.

This isn't the first time the idea of licensing has been floated at Condé Nast, but it's something that Si Newhouse has pooh-poohed in the past. The reasoning was simple: It cheapens the brand.

"Si has never bought into it," said a Condé source.
With some tough budget decisions in their rearview mirror, the publishing giant deserves some credit for considering new and creative revenue streams. But Condé's biggest loss of last year may not have been now-defunct titles Gourmet or Domino, nor may it have been the millions of lost revenue brought be an ad recession that absolutely killed the luxury market (on which so many of Condé Nast's titles rely.)
No, the biggest loss of last year at Condé Nast is the myth that surrounds their august brand. And merchandising products through licensing arrangements sounds cheap — and isn't likely to resurrect the once regal and mythological standing at 4 Times Square.
Have a tip we should know? tips@mediaite.com