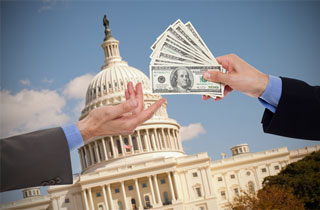 One of the awesome things about being a member of Congress is that lobbyists are constantly trying to buy your attention. Literally, they try to buy your attention with fancy dinners, envelopes full of cash (no lie, I have actually seen that go down), and free luxury trips around the world. But one of the not-so-awesome things about being a member of Congress is that you have to report these free gifts on your annual financial disclosure form, which makes it look like, well, a company has bought your attention.
Thankfully, this won't be a problem for congressmen and women anymore: The House Ethics Committee quietly eliminated the three-decade-old requirement to disclose free trips paid by outside private interest groups on their financial disclosure forms.
National Journal discovered the change while analyzing the latest batch of filings, and revealed that while Congress does have to disclose trips to the House's Office of the Clerk, they don't have to report it on the document publicly available to journalists and watchdog groups, a.k.a. the two institutions that often call out members of Congress for abusing the generosity of lobbyists.
It's okay, though! The Jack Abramoff scandal, in which several members of Congress were convicted of accepting bribes in the form of trips paid by lobbyists was, heck, ten years ago! Everyone's forgotten about it by now, which means our elected officials to feel that it's okay to go on expensive free vacations:
The tabs for these international excursions can run into the tens of thousands of dollars. One trip to Australia earlier this year cost nearly $50,000. Lawmakers are often invited to bring along their husbands or wives, fly in business class, and stay in plush four-star hotels. In the wake of the Abramoff scandal, lobbyists were banned from organizing or paying for these travels. But some of the nonprofits underwriting them today have extremely close ties to lobbying groups, including sharing staff, money, and offices…

House Majority Leader Eric Cantor, who led a GOP delegation of lawmakers to Israel last summer paid for by the American Israel Education Foundation, which is closely tied to the pro-Israel lobby, did not include the trip on his annual form. House Minority Whip Steny Hoyer, who led a similar trip for Democrats, did include it on his form. But some of the rank-and-file members who went on the trip with Hoyer did not.
Predictably, no one in the US Congress commented. (We're assuming that "being scrutinized for attempting to hide free trips paid by lobbyists" is not one of the awesome things about being a member of Congress.)
[National Journal]
[Image via Shutterstock]
—
>> Follow Tina Nguyen (@Tina_Nguyen) on Twitter
Have a tip we should know? tips@mediaite.com