Conservative Activist Files Petition to Deport Obama: 'He's an Illegal Alien'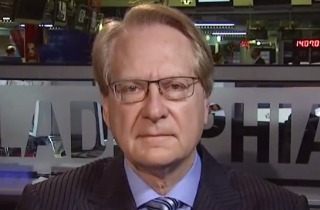 Conservative activist Larry Klayman has previously said of President Obama, "[He should] get up, to put the Quran down, to get up off his knees, and to figuratively come out with his hands up." When previously questioned about whether he believes Obama is a foreign-born Muslim, he said it was "metaphoric." (Oh, and Klayman's also somewhat well-known for a legal victory he scored against the NSA.)
And now he's trying to get Obama deported.
You read that right, this conservative activist is trying to get the President of the United States deported. Klayman filed a petition and explained this action in a WorldNetDaily column (you can probably draw your own conclusions based on those last two words):
No, Obama is not incompetent or ill prepared, as politically correct commentators shade it. The African-American "Muslim in Chief" knows exactly what he is doing, and it is done at the expense of the rest of us. As set forth in a deportation petition I filed just today, it's time that he be deported back to his native country and for him to leave us alone. He has no legitimacy to be president, and he must be tried, convicted and removed from our shores before he destroys everything the Founding Fathers bequeathed to us.
And then there's the fact that when U.S. News asked him about this, Klayman actually said, "He should be deported. He's been in this country illegally, he's an illegal alien… You can't claim you're an American citizen when you're not and be president of the United States."
Okay then.
[h/t RWW]
[image via screengrab]
— —
Follow Josh Feldman on Twitter: @feldmaniac
Have a tip we should know? tips@mediaite.com
Josh Feldman - Senior Editor