Conservative Blogger Asks For Pres. Obama's Schedule…On Romney Campaign Press Call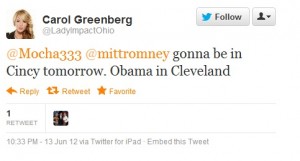 In yet another sterling example of the wisdom of the Romney campaign's efforts at blogger outreach, The Huffington Post's Jon Ward flags what has to be one of the strangest questions ever asked on a campaign press conference call. A conservative Ohio blogger named Carol Greenberg, from the blog Conservative Outlooks, called in to senior Romney campaign adviser Russ Schriefer's Wednesday press briefing to ask where the candidate would be speaking…the opposing candidate, President Obama.
From HuffPo's Jon Ward:
A Romney campaign conference call got a moment of levity Wednesday when a conservative blogger from Ohio used her chance to ask a question to inquire whether President Barack Obama's travel to the Buckeye State is going to snarl traffic.

"Do we know yet where Obama will be?" asked the woman, who identified herself to the call operator as Carol Greenberg, with the blog Conservative Outlooks.

"Can you say or can you at least give a general geographical part of the state? I'm hoping he's not going to be in northwest Ohio, because he always ties up traffic," Greenberg continued. "So if he's going to be up here I may stay home tomorrow."

Romney adviser Russ Schriefer tried to contain a chuckle during his answer, but couldn't disguise his amusement.

"Well it's my understanding the president's going to Cuyahoga County, and that he's speaking at the, I believe it's the Cuyahoga Community College. So, I hope that doesn't screw up your traffic plans," Schriefer said.
Greenberg apparently hasn't blogged about her scoop, but she did tweet this to her followers last night:
@Mocha333 @mittromney gonna be in Cincy tomorrow. Obama in Cleveland
When you really think about it, though, Greenberg's question was sort of a badass move, like calling in to Rush Limbaugh's show to ask what station Glenn Beck is on.
Credit Schriefer for being a good sport. I'm not sure how Jay Carney would react if I asked him for details on Mitt Romney's schedule.
Ward also notes that this was the first time Schriefer has been called on to speak for the campaign, and noted a really strange attempt at opacity by the Romney campaign:
There was also a minor debate over the ground rules for the call. The Romney campaign advised the conference call by e-mail on less than two hours notice, then announced at the top of the call that Schriefer could only be identified as a campaign official or some other background term. However, a campaign spokeswoman changed that rule after a request by The Huffington Post that the call be on the record.
Background briefings themselves aren't unusual, but they're not typically used by presidential campaigns. The press advisory for the call didn't mention it would be a background briefing, which means this was a last-minute decision. The fact that they backed off would seem to indicate that the content of the call wasn't the reason for the attempted secrecy. Is it just more Romney campaign paranoia, or is there some other reason? The Romney campaign hasn't yet responded to inquiries on the subject. Maybe I should've asked them for Joe Biden's schedule.
Have a tip we should know? tips@mediaite.com