Conservative Site Outraged That No One Wants Nekkid Pictures Of Mitch McConnell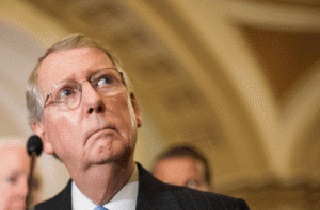 The mainstream and/or "liberal" media takes a constant beating from conservatives desperate to achieve parity, but often, they scrape so low in the barrel for things to whine about that they undercut their own reason to exist. Conservative media watchdog Newsbusters, for example, is currently outraged because Hardball host Chris Matthews told MSNBC viewers that there's "No Chance Anyone's Looking for a Nekkid Picture of Mitch McConnell."
In a segment devoted to the possible showdown between Senate Minority Leader Mitch McConnell and actress/activist Ashley Judd, there were several disturbing moments that a sharp conservative could have keyed in on. For example, The Huffington Post's Howard Fineman told Matthews that "the Obama people don't want" Ashley Judd to run for McConnell's senate seat because she's been divorced, has shared her struggles with depression, and has appeared nude in films. Fineman illustrated that last point by imitating an unnamed Kentucky Democrat drawling that "they have a whole drawer-full of pictures of her."
Gross. The race for U.S. Senate in Kentucky is already shaping up to be a skeevy affair, with one liberal PAC attacking Sen. McConnell's wife in a tweet, and a sick obsession with Ashley Judd's nude scenes emerging before she has even announced her candidacy. The revelation that Democrats are skittish about Judd's screen nudity is just the sort of misogynist hypocrisy that conservatives could key in on, and actually have a substantive leg to stand on.
Instead, Newsbusters' Noel Sheppard takes this segment as yet another assault on the downtrodden White Man:
Fineman then gingerly stepped around the fact that there are "nekkid" pictures of her out there from her movies.

Matthews brushed this aside saying, "Yeah, let's watch the Republicans bash another woman. This'll be great."

Isn't it fascinating how Matthews is always in favor of Democrats trashing white men – he and his MSNBC colleagues do it all the time! – but going after Democrat women is verboten?

In fact, he demonstrated his hypocrisy perfectly a few moments later when as the segment came to a conclusion, he said, "Okay, by the way, asymmetric warfare here guys: no chance anyone's looking for a nekkid picture of Mitch McConnell."

This was met with laughter by all.

Thanks for proving my point, Chris.
Yes, Noel, cultural double-standards about nudity are so unfair to men. If it makes you feel any better, I will further stipulate that no one is looking for nekkid photos of Harry Reid, or any other retirement-age legislator.
In a poll taken this past December, Ashley Judd was running just four points behind Sen. McConnell, along with Lieutenant Governor Jerry Abramson, and Attorney General Jack Conway. Judd has the sort of name recognition and fundraising potential that most candidates can only dream of. If there's something to be taken away from this segment, it's that some Democrats are willing to abandon a powerful candidate because we saw her boobs. The day Mitch McConnell's boobss become a campaign issue, conservatives will have something to complain about, as will we all.
Here's the clip, from MSNBC's Hardball:
Follow Tommy Christopher (@TommyXtopher) on Twitter.
Have a tip we should know? tips@mediaite.com