Conservative Twitter Crushes Elizabeth Warren's Ancestry Dream: She's 'Even Less Native American' Than Average American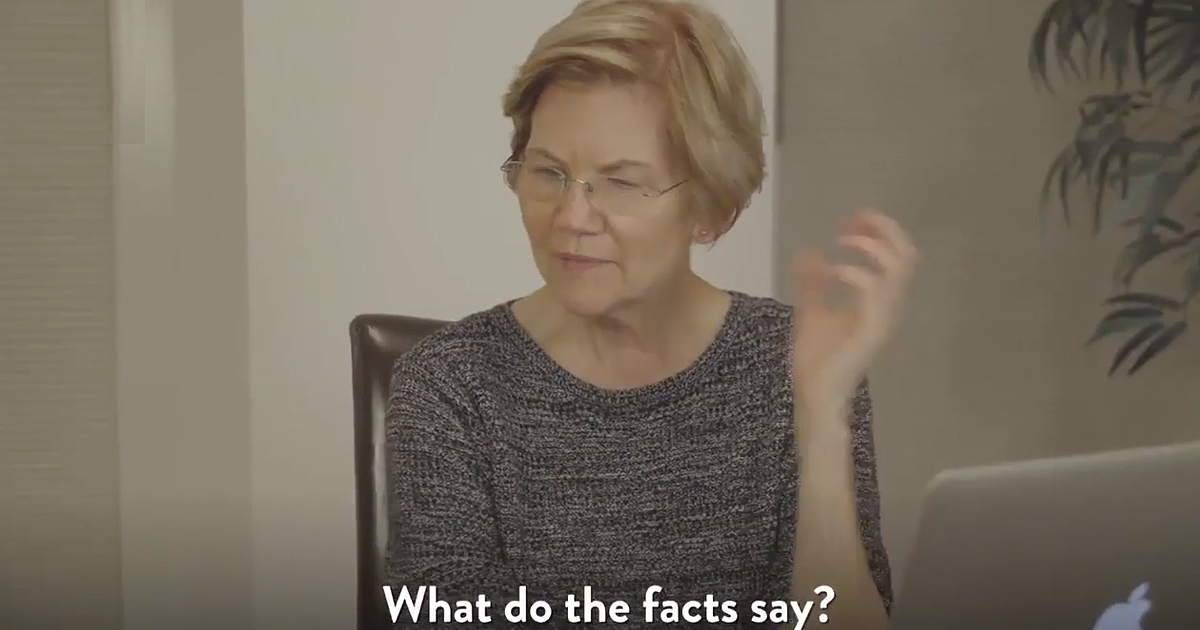 Senator Elizabeth Warren on Monday released the results of her DNA test along with a video about her family, aggressively pushing back against President Donald Trump's relentless mocking of her questionable claim to be of Native American descent.
It was a big splash at first, but it wasn't long before it became clear she far from laid the questions to rest. As usual, Twitter was the place to follow the story.
In perhaps the most amusing (and least fortunate, if you're a Warren fan) turn of events, the Boston Globe, which broke the story, had to issue a correction already, and it highlighted the inherent absurdity in the question, and the numbers being discussed, as the Daily Caller's Saagar Enjeti pointed out.
BOSTON GLOBE: "Due to a math error, a story about Elizabeth Warren misstated the ancestry percentage of a potential 10th generation relative. It should be 1/1,024."

— Saagar Enjeti (@esaagar) October 15, 2018
That's a heck of a correction to have to make. The DNA expert tapped by Warren to verify her ancestry claim puts her ancestor at six to ten generations back. That's 1700s or earlier. Apparently the math on those percentages stymied the Globe at first. Bad time for bad math.
But the actual DNA report didn't require the Globe's bad calculator to come up short of vindication for Warren.
If, say, Romney claimed his parents eloped because his mom was part NA, submitted recipes to NA cookbook, told his employers he was NA, and then a DNA test showed at LATEST he had a NA ancestor in the 1700s, the media takeaway would not be that his critics overstated things.

— Alex Griswold (@HashtagGriswold) October 15, 2018
You have to get out a god damn TI-83 to calculate the possible infinitesimal amount of non Caucasian DNA in Elizabeth Warren but she seriously tried spiking the football on this one. LMAOOOOO

— Comfortably Smug (@ComfortablySmug) October 15, 2018
We all owe Elizabeth Warren 1/512th of an apology.

— Frank J. Fleming (@IMAO_) October 15, 2018
Elizabeth Warren has to go back 10 generations to find a non-white person in her family lineage. Warren is extremely, extraordinarily, almost completely white. Way whiter than the average whitey. That's the real headline here.

— Matt Walsh (@MattWalshBlog) October 15, 2018
You all owe an apology to Elizabeth Warren's great-great-great-great-great-great-great-grandmother

— David Burge (@iowahawkblog) October 15, 2018
That @SenWarren had the confidence to release a document saying that she MIGHT be 1/1024 Native American knowing that the media would treat it as a victory tells you everything you need to know about everything.

— Jeremy Boreing (@JeremyDBoreing) October 15, 2018
A personal favorite:
In fairness, Elizabeth Warren's DNA test shows she's got a greater connection to the Hispanic community than Beto O'Rourke has.

— Erick Erickson (@EWErickson) October 15, 2018
But this one … this is just brutal. And it even uses a New York Times reference for that extra salt.
So Elizabeth Warren is *possibly* 1/1024 (0.09%) Native American.

Scientists say the average European-American is 0.18% Native American. (https://t.co/XU0l1JQO1L)

That'd make Warren even less Native American than the average European-American.

— Michael Ahrens (@michael_ahrens) October 15, 2018
Ouch.
Exit question: Should President Donald Trump get a DNA test to see if he's more Native American than Elizabeth Warren? Patterico and PJ Media's Paula Bolyard want to know.
Is Donald Trump more of a Native American than Fauxcahontas? https://t.co/CHjWP6jwy8

— Patterico (@Patterico) October 15, 2018
Wonder what percent Trump is? https://t.co/kPC8wsz14j

— Paula Bolyard (@pbolyard) October 15, 2018
The extent of her ancestry will undermine her argument for claiming heritage, but she did prove she has that ancestry. Which means that, like most things, neither side will be conceding any points any time soon.
That's Twitter's heritage, and it's nearly 100%.
[Featured image via screengrab]
—
Follow Caleb Howe (@CalebHowe) on Twitter
Have a tip we should know? tips@mediaite.com