Conservative White House Press Explains Why Chris Christie Won't And Shouldn't Run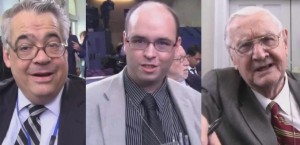 Before today's White House daily briefing, I found myself surrounded by something of a Holy Trinity of Conservative Media, so it seemed like a good time to ask them what they thought of the chatter surrounding NJ Gov. Chris Christie's possible (if unlikely) entry into the 2012 Republican presidential field. John Gizzi from Human Events, Fred Lucas from CNS News, and Les Kinsolving from World Net Daily all responded to the question "Will he, and should he?" with a resounding negatory.
Despite Christie's protestations, the buzz about his presidential prospects keeps getting hotter this week, in part because something has to fill the news hole, and in part because Republicans are desperate for a durable White Knight. However, the conservative brain trust of the White House press corps all agree that Christie won't run, and that given the practical realities of entering the race this late, he shouldn't run.
Gizzi noted that a presidential campaign is similar to running a start-up company, and entering the race so late would pose too significant a disadvantage to overcome. He used buzzed-about 2008 latecomer Fred Thompson as an example.
CNSNews' Fred Lucas said that Christie's time was several months ago, "when he was hot," but that time is well past. "He may enjoy the flattery of all the news stories, will he or won't he," Lucas said, but pointed out a key difference between Christie and another bandied-about maybe. "(Christie's) much more definitive about it than (Sarah) Palin. Palin's going to leave people hanging on, even though most people don't think she's going to do it."
World Net Daily's Les Kinsolving, the second-most senior reporter in the White House, also said it was "definitely too late" for Christie, and for Palin. Audio-Video News' Connie Lawn interjected, "Les Kinsolving for President!"
Whatever chilling effect Christie is having on GOP donors is likely to be short-lived, specifically until the end of the week, or until a new shiny object gets the political media's attention, whichever comes first.
Have a tip we should know? tips@mediaite.com