Conservative Writer Bethany Mandel Reveals She Left the Federalist Because of DC McAllister's 'Toxic' Behavior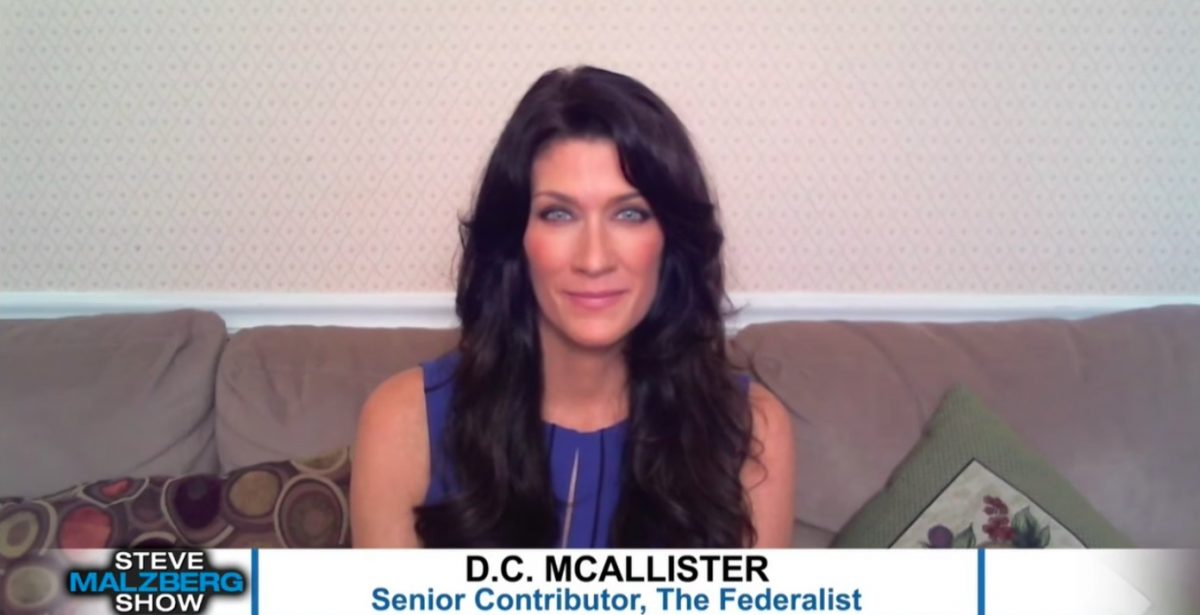 The conservative blogger DC "Denise" McAllister was fired from her role at Ben Domenech's site The Federalist over a wildly homophobic meltdown this weekend, and an ex-co-workers are now saying she left the outlet a year ago because of McAllister's frequent "nasty" attacks and instability.
Bethany Mandel, a former senior contributor at The Federalist and the spouse of Washington Examiner editor Seth Mandel, published a lengthy thread detailing McAllister's history of "toxic" and unstable behavior.
A few thoughts on Denise and what happened this weekend: First of all, I am conservative and I was one of the many people who took issue with her original tweet (which did not applaud masculinity, but instead an incredibly subservience nobody should expect of a woman).

— Bethany S. Mandel (@bethanyshondark) April 1, 2019
"Her response was very textbook if you know her: She went to 11 and went on the attack, taking it nasty and personal," Mandel said of McAllister's anti-gay smears against journalist Yashar Ali.
"When someone disagrees with Denise she has an MO: She gets nasty, she gets personal, and she plays the victim," she continued. "She did it at my husband last year, and her behavior led to my resignation as a Senior Contributor from the site. Denise is a toxic person, and she has been a liability for anywhere that publishes her for a long, long time."
Mandel noted that left The Federalist after McAllister falsely called her husband is gay and joked about him being with another man.
After McAllister — who recently became a meme after she slammed The View, only to have the show's host Meghan McCain point out, "You were at my wedding, Denise" — exploded over the weekend, she was also fired from Ben Shapiro's site The Daily Wire, but Mandel believes people in media should "have known for A LONG TIME" about McAllister's issues.
"Someone that unbalanced, that hateful, should not have a platform," she continued, before adding that she hopes McAllister "seeks help" and works through "her issues offline."
Former Federalist senior contributor Rebecca Cusey also tweeted that McAllister's behavior is "primarily why I left The Federalist."
Much as I'd like to dunk on Denise McAllister after her caustic fight with @MeghanMcCain and @yashar (who seems like a kind person), the real story is how the hunger for outrage and anger exploits and elevates troubled people. She is primarily why I left the Federalist. 1/

— Rebecca Cusey (@rebecca_cusey) March 31, 2019
Cusey continued:
"In the leadup to 2016, Denise and I were increasingly on different sides. She would become angry and personal toward me and toward others who disagreed with her… The editors would eventually tell her to back off. She'd come back the next day or so and apologize. Then it would start over. It was a cycle and I became concerned that it was a cycle she could not entirely control. The penny dropped that there were mental health issues. She admitted/claimed in emails that she had mental health issues. This was well known to the editors… I think she needs help."
After McAllister's homophobic outburst went viral, the conservative claimed she was the victim after supposedly receiving a slew of threats. The gay journalist McAllister attacked responded to her concerns by asking followers not to send nasty messages.
"I don't care what someone says to me, it's never ok to call a woman the 'c-word,' talk about her appearance, and speak about her mental health using derogatory terms," Ali tweeted. "Please don't do it on my behalf."
The whole incident was triggered by McAllister tweeting that Ali is a "sad and "lost" man for trying "to find himself in another man's asshole."
She later apologized: "The tweet in question has been deleted. I apologize to @yashar for responding to a perceived attack on my family in the manner I did and regret any embarrassment I caused @benshapiro and the @realDailyWire as well as @bdomenech and @FDRLST."
[image via screengrab]
Have a tip we should know? tips@mediaite.com