Corey Lewandowski Reportedly Demoted Hours Ahead of New York Primary (UPDATED)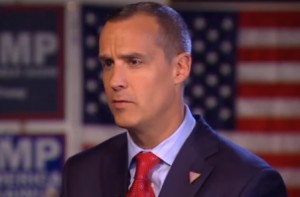 Just hours before the New York state primary polls were set to open Tuesday, the frontrunning campaign of the Republican party underwent a minor facelift of sorts, demoting embattled campaign manager Corey Lewandowski overnight. Lewandowski has been at the center of controversy for the campaign for over a month, since a Florida incident in which he grabbed a former female Breitbart reporter and lied about the exchange before surveillance video proved otherwise.
According to CBS News, Lewandowski's contribution to the Donald Trump campaign has been "…reduced to a role that amounts to body man and scheduler." Paul Manafort, the convention manager and delegate strategist who aggressively accused the Ted Cruz campaign of engaging in "Gestapo tactics" just days into the job, will now run the campaign.
Lewandowksi was initially charged with misdemeanor battery from the incident at Trump's Mar-a-Lago, though last week it was revealed that he would not be prosecuted. Trump himself identified it as a "minor incident," indicating that when you look at the tape of the exchange "practically nothing happens."
The real estate billionaire had made clear that he was not interested in firing Lewandowski in the wake of the exchange. "Do I ruin a man's life over something that when I looked at the tape, I said 'what's going on?'" Trump told CBS' John Dickerson two weeks ago on Face the Nation. The total number of Trump staffers reporting to Lewandowski directly was also slashed in the restructuring effort.
UPDATE — 10:30 a.m ET: The Donald Trump campaign responded to comment on CBS' report, simply telling Mediaite, "Corey is the Campaign Manager." Lewandowski's Twitter bio still reads as such, and we will update this space as more information becomes available.
Have a tip we should know? tips@mediaite.com