Cornhusker Confusion: NE State Senator Claims Flag Hung Upside Down For 10 Days and 'Nobody Noticed'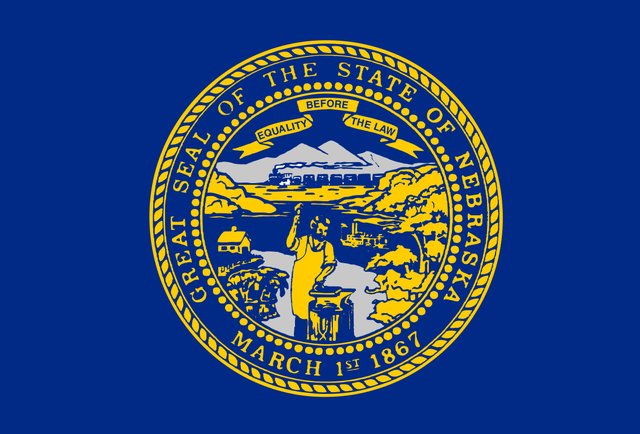 As part of Nebraska State Senator Burke Harr's effort to redesign the state flag, he recently made a startling revelation: the flag hung upside down over the State Capitol's west side for ten days, and no one noticed.
Harr told members of the Legislature's Executive Board Tuesday, "Nobody noticed it. It took someone drawing it to my attention before it was changed."
Harr has recently petitioned the powers at be to have the official flag redesigned given its rather plain and unidentifiable characteristics. The current Nebraska state flag includes the state seal with hard-to-read print; Omaha.com writes that it is, "blue, gold and silver and features the state seal, which shows a steamboat in the Missouri River, a train heading toward the Rocky Mountains, and a smith with a hammer and an anvil."
But hardly the stuff of eye-catching flash, argues Harr. "That's fine for a state seal," he told lawkers this week, "but a flag needs to be instantly identifiable."
And Harr is not the only loyal Cornhusker to join in the chorus to have the flag changed. Suzanne Wise, the executive director of the Nebraska Arts Council, slammed the current design, saying, "It's galling our state flag doesn't embody that uniqueness. I think our sesquicentennial year is an ideal year to do this."
In the past, Senator Harr has spearheaded efforts to allow Nebraska schoolchildren to redesign the state flag, encouraging more than 175 submissions.
In 2014, the editors of Thrillist subjectively published its list of the Best & Worst state flags, and unsurprisingly the Cornhusker State finished in 49th place (it edges out only Maryland). The Thrillist editors wrote at the time:
Damnit, Nebraska. We went over this. You don't draw a guy in a robe trying to smash through a tree stump, you just don't. We asked a close friend, who hails from Lincoln, Nebraska, to describe the flag. Her response: "It's blue, and it's stupid." She's not wrong.
Thrillist ranked South Carolina, Texas, Alabama, New Mexico, and Colorado as the top 5 state flags.
Have a tip we should know? tips@mediaite.com