Coulter Calls For Primaries Against More Than 25% Of The Republicans In The Senate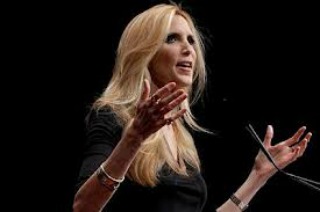 As the Senate prepress to vote on an immigration reform bill on Thursday, conservative columnist Ann Coulter declared that those Republican senators who are prepared to vote yes on that bill should face primary challenges. She named a number of GOP senators who make up more than a quarter of the total number of GOP senators in the upper chamber of Congress.

Coulter reacted to the comprehensive immigration reform plan by renouncing New Jersey Gov. Chris Christie's appointed replacement for the late Sen. Frank Lautenberg (D-NJ), Sen. Jeffrey Chiesa (R-NJ), who is prepared to support the bill.
RELATED: Sarah Palin: Primary Marco Rubio, Kelly Ayotte For Support Of Immigration Reform
Coulter declared that Christie, whom she had previously named as the only person who could win in the 2012 election against President Barack Obama, was "dead to me."

She went on to name 12 of the 46 elected Republican members of the U.S. Senate who voted in favor of the immigration bill and called for primary challenges against those senators.

Among the senators Coulter determined should be forced to defend against a challenge from their right were Sens. Lamar Alexander (R-TN), Kelly Ayotte (R-NH), Bob Corker (R-TN), Jeff Flake (R-AZ), Lindsey Graham (R-SC), Orin Hatch (R-UT), Dean Heller (R-NV), John Hoeven (R-ND), Mark Kirk (R-IL), John McCain (R-AZ), Lisa Murkowski (R-AK), and Marco Rubio (R-FL).
Coulter joins former Alaska Gov. Sarah Palin who called for primary challenges against Sens. Rubio and Ayotte on Wednesday over their support for the immigration reform plan.
> >Follow Noah Rothman (@NoahCRothman) on Twitter
Have a tip we should know? tips@mediaite.com