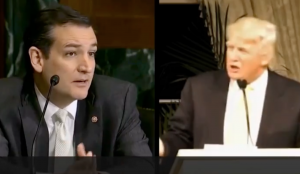 In the escalating war of words between Sen. Ted Cruz and Donald Trump, Reigniting the Promise of America, a Super PAC that supports Cruz, has enlisted a powerful new voice — Donald Trump.
The Super PAC's latest 60-second ad, entitled "Controversy," plays footage of Cruz under audio of Trump singing the Texas senator's praises. All of the audio was taken from Trump's introductory remarks at a fundraising dinner in Feb. 2014, during the halcyon days of the two candidates' bromance — long before their relationship curdled into a fitful circus of recrimination over Cruz's birthplace and Trump's "New York values."
"Now one of the reasons I like Ted Cruz so much is that he is not controversial," Trump says, to uproarious laughter. "But the truth is he shouldn't be controversial because what he's doing is right."
He briefly praised Cruz for taking a stand against Obamacare, but otherwise offered few concrete points of policy on which he agreed with him, instead lauding his "common sense," support for "good government," and "so many good things."
Instead, the ad conveys Trump's unalloyed endorsement of Cruz as a steadfast candidate — whom he twice describes as a "special guy." Of course, this was months before The Donald launched his own campaign, and nearly a full year before he considered Cruz a credible threat.
I watched what he was saying and I listened very carefully. And I don't understand the controversy. It's common sense. It's good government. It's so many good things. But he really is a special guy. He is now a very very popular and important figure in all of our lives. So, with that I'd would like to introduce a very special guy, Senator Ted Cruz.
Reigniting the Promise touts Cruz as "the only consistent conservative running for President of the United States," a claim which echoes criticisms of Trump that he is not a "real conservative" — criticisms which Cruz has resisted launching. This is the latest in the Cruz camp's tack of using Trump's words against him. It's a smart gambit — sparring with Trump, without having to say a thing against him.
[h/t Red State]
—
Follow Sam Reisman on Twitter: @thericeman
Have a tip we should know? tips@mediaite.com