Cue The Divorce Jokes: Newt Gingrich Thinks Gay Marriage Is A 'Temporary Aberration'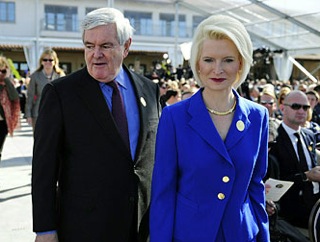 2012 Republican race "Ideas Guy" Newt Gingrich isn't too worried about same-sex marriage. This he told a crowd in Iowa yesterday, slamming the practice– longtime accepted law in Iowa– as a "temporary aberration that will dissipate," in its place resurfacing heterosexual marriage as the standard. Gingrich was speaking at an event where he was explicitly asked on the issue, but his answer given his own history and the history of the state in which he gave it, may be among his most unwise.
Gingrich, whose campaign had been struggling for some months and is experiencing something of a second wind after being the most popular Vice Presidential choice at the last debate, made it absolutely clear that he believes that marriage the way it has existed "for all of recorded history" should remain unhampered. The comments via the Des Moines Register:
"I believe that marriage is between a man and woman," Gingrich said. "It has been for all of recorded history and I think this is a temporary aberration that will dissipate. I think that it is just fundamentally goes against everything we know."
RELATED: Senior Gingrich Campaign Aides Resign En Masse
It didn't take long for the comment to make the rounds on the left, or for Iowan civil rights groups to call Gingrich's comment "offensive and disrespectful" to many Iowans in same-sex marriages– but that is to be expected, and as Gingrich's fight is really in the primary at this point and not the general election, whether swing voters and independents are offended makes little difference in the grander scheme. That said, this one was a misfire.
There are many reasons why this comment is likely to backfire, and it took little to no time for someone to bring up the first, obvious point that Gingrich doesn't exactly have the sort of track record that lends itself to defending the sanctity of marriage. In fact, even before the inevitable headline snark, the piece in the Des Moines Register began the sentence immediately following his statements with "Gingrich, who has been married three times and has previously admitted to being a past adulterer…"
RELATED: Marriage Amendment Popular Among GOP Candidates, But Not The Ones You Think
The more subtle point to make about the political strategy here is that Gingrich made the comments at an event in Iowa– the third of six states to legalize full marriage rights for same-sex couples. With Gallup showing attitudes towards same-sex marriage more favorable than ever in 2011, it seems politically unwise to tackle this issue– a marginal one given America's three (four?) war fronts and the nation's economic woes– in a state where it has been established law for many years. Sure, it is at its core a consistent point to make, private life notwithstanding; Gingrich's House of Representatives is who Americans have to thank for the Defense of Marriage Act, which the Obama administration all but completely ignores. That said, it takes the focus off of everything the other Republican candidates were so effusive in praising about Gingrich: his experience as the House Speaker during economic boom times, the shockingly-still-popular Contract with America template, and his recognized skill among conservatives in debate (the Achilles' heel that has Rick Perry's poll numbers in a tailspin).
Have a tip we should know? tips@mediaite.com