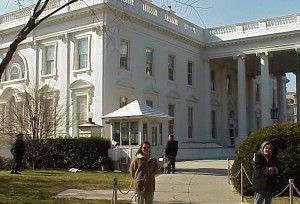 If you weren't already concerned about the potentially hazardous results of the sequestration cuts, the White House announced today that due to the massive spending cuts and "staffing reductions," it will be discontinuing tours for the foreseeable future. The White House Visitors Office has publicly expressed regret for this action given how apparently springtime (though since D.C. is getting hit by a "snowquester" tonight, can we really say it's spring yet?) is a popular touring season, but Republicans in Congress are alleging that the announcement may be a political move.
Although their website has not yet been updated accordingly, the White House sent out an e-mail announcing the tours will be discontinued for now.
An email sent to lawmakers from the White House Visitors Office said that it would not be able to reschedule affected tours, which are typically scheduled through lawmakers on Capitol Hill.

"We very much regret having to take this action, particularly during the popular Spring touring season," the White House email said.
A spokesman for the Secret Service said today that officers normally designated to conduct tours will be reassigned for the time being, explaining that the temporary measure "will reduce overtime costs overall and may ultimately reduce the number of potential furloughs necessary by our agency."
However, Republicans in Congress are claiming this is naught but a political tactic designed to get the public on the side of the White House in the battle over spending cuts. Senator Pat Roberts said in a statement that the decision is "perception politics run amok," calling out the White House for choosing cutting the access of American citizens into the White House as opposed to other forms of wasteful spending.
Other Republicans, including Congressman Mike Simpson, said cutting tours is "just a bid to pressure Republicans to change course on the sequester," though across the aisle, at least one Democrat is warning of the consequences cuts could have on our most valuable resource: the children.
Rep. Joyce Beatty, D-Ohio, told Fox News this is another reason why both sides should figure out a compromise. She said the closure of White House tours will be "alarming" for children coming to D.C. for spring break.
Yes, what child wouldn't want to spend spring break touring the White House with their parents while sneaking a glance at their iPod every five seconds?
—–
Follow Josh Feldman on Twitter: @feldmaniac
Have a tip we should know? tips@mediaite.com
Josh Feldman - Senior Editor