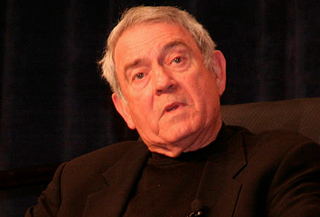 Are U.S. journalists too cowed to challenge those in power? Fusion's Jorge Ramos said so last week, and today he's been joined by Dan Rather, who said along the way journalists lost their "guts" to act as a check on the politically powerful in this country.
Rather told The Toronto Star that people should be concerned about media ownership stifling competition and how "the standards of what is accepted as quality journalism have dropped precipitously." He lamented how the only time the big stories get coverage is when the networks put on a bunch of people to spout off about it without much real knowledge of what it is they're talking about.
But beyond the sensationalization of the news, Rather said, "I think journalists and journalism — certainly in the U.S. — we lost our guts. An attitude got around: Be careful, because if you report something people in power don't like, you may have to pay a very heavy price for that. That's not in the best tradition of U.S. journalism, nor do I think it's in the best tradition of the free press anyplace."
And why does it matter if journalists have guts? Because, Rather argued, having a free press to inform the public about essential news is vital in any democratic society, so it's not "too strong to say that the potential harm to the country as a whole increases correspondingly" when journalists don't do their jobs.
[h/t HuffPost]
[image via Ed Schipul]
— —
Follow Josh Feldman on Twitter: @feldmaniac
Have a tip we should know? tips@mediaite.com
Josh Feldman - Senior Editor