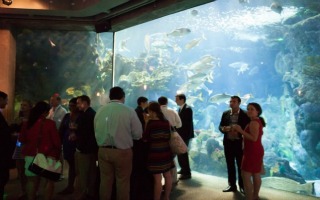 Dana Milbank's piece in Wednesday's Washington Post on the extravagant and lavish events the press is treated to at national political conventions is eye-opening and deeply disturbing. His report foreshadows significant changes coming to how political conventions are managed – or if there will be conventions in the future at all.

I've had my deltoids massaged in candlelight by a licensed therapist; had a foaming pore cleanser and mask applied to my face by an aesthetician; been instructed in the Warrior, Half-Sun Salute and Dancer poses by a yoga instructor; and crawled into a hanging cocoon for a "meditative snooze." I worked up quite an appetite doing all this, so I ordered vegan corn chowder and gluten-free chicken chile verde washed down with Fiji water — all courtesy of the Huffington Post.
Milbank details the for-press-by-press offerings that are provided by news outlets like Politico, CNN, MSNBC, The Atlantic, National Journal, Bloomberg, CBS and The Hill. He says that these events, services and comestibles are almost entirely provided to members of the media due to the imbalance of the makeup of convention attendees. Only 5,000 of convention-goers in Charlotte are delegates, for example. 15,000 attendees are journalists.
There were a dozen media events to go, including Asian-fusion food at Politico, Politics and Pints trivia with The Post's Chris Cillizza, and a RealClearPolitics party. But if I went to the late-night BuzzFeed party at a children's museum, I wondered, could I still make it to Wednesday's breakfast sponsored by Bloomberg and The Post? Possibly — but I'd need a nap at the Huffington Post.
"The situation in Charlotte — thousands of idle journalists and not a serious news story in sight — is one more reason to consign political conventions to the dustbin of history," writes Milbank.
The party-like atmosphere that Milbank reveals is a stark contrast from the purposeful, smoke-filled, republican qualities that characterized political conventions before 1968 – when chaos and violence at that year's Democratic party's gathering forced a reformation of the primary election process. This reformation made conventions largely irrelevant, but the tradition of holding national nominating conventions persists.
Sure, delegates and reporters unwound at the quadrennial, pre-'68 gatherings, but Milbank's report reads more like a dispatch from a trade show than an American political convention.
The corrupting decadence that Milbank chronicles is disturbing. This is not the kind of atmosphere that fosters the adversarial relationship required to keep both reporters and politicians honest.
If there is one thing this cycle has proven, with both Democrats and Republicans dropping the first day of their conventions, a week of proceedings is far too long. Two days, at most, is enough to get the party's business accomplished. Fewer newsmakers in attendance would mean fewer reporters, and probably a significant reduction in nap pods and candidate-themed cocktails.
Milbank is right — It is time to reform the convention process. This time, rather than responding to a crisis, as was the case in 1968, politicians and reporters would be preemptively addressing a crisis before it arises. Many reporters would have to grudgingly admit that, if the status quo is allowed to continue, a scandal is all but inevitable.
…And that should happen any minute now. I will hold my breath.
Read the full article via The Washington Post
> >Follow Noah Rothman (@Noah_C_Rothman) on Twitter
Have a tip we should know? tips@mediaite.com