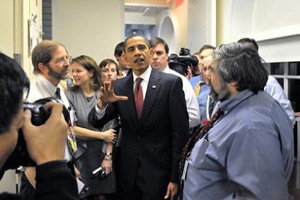 Dana Milbank feels shut out of the White House. In his Washington Post column today, Milbank lets a series of anecdotes explain how Barack Obama has routinely neglected the press in an administration that ran on transparency. The few times he lets his own voice crack through, Milbank limits his criticism to May Day parades and USSR references. Has Dana Milbank joined the Tea Party movement?
"World leaders arriving in Washington for President Obama's Nuclear Security Summit must have felt for a moment that they had instead been transported to Soviet-era Moscow." This is how Milbank, who has made a career out of legendary introductions, opens his column. He continues to describe Washington, DC looking like a "military encampment" and a "May Day parade." He quips that the title of President is no longer known as "leader of the free world," and suggesting that Obama gave the "world's greatest dictators" a lesson in neutralizing the media.
It doesn't get much better for Obama when Milbank begins to cite other reporters who feel the same– reporters who were used to wheedling information out of tight-lipped leaders like the Saudi royal family, the King of Jordan, and Chinese President Hu Jintao. They all expressed regret at how little access the White House gave them to international talks and events. The comments are damning because they originate from a group that already expects to be shunned, not from comparatively privileged American journalists who are accustomed to a certain standard of transparency.
At some points, though, Milbank does drift off into the barely-relevant, like his accusation that Obama "broke with years of protocol" by attending a soccer game without telling his security. The fact that he joked that "reporters were upset" about this was insulting to Milbank, despite the fact that the instance was a needless risk to his wellbeing and not directly a snub to reporters.
It's important to note that Milbank was in hot water recently for defending White House Chief of Staff Rahm Emanuel— he is probably one of the last in line anyone would expect to make repeated references to communism in order to attack President Obama. Yet the secrecy seems to have struck an important nerve within him that, with every new comment about it from reporters used to a world of obstructed journalism, grew more irritated. That said, chances are Milbank isn't going to run off and make some crayon signs with hammers and sickles on them anytime soon. It is precisely because Milbank has been outlandish in the past to defend Obama that his now being outlandish to attack him is so shocking, and, if Milbank is right about the issue, might be a wake-up call to Obama officials to take a little extra time to make sure the reporters are well-tended to.
[Photo via White House Museum]
Have a tip we should know? tips@mediaite.com