Darrell Issa Disputes WaPo's Four Pinocchio Rating, Is Awarded Eight Pinocchios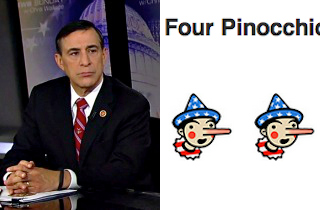 Representative Darrell Issa (R-CA) disputed two four-pinocchio ratings given to him by Washington Post fact checker Glenn Kessler (four noses indicate the highest level of falsehood), causing Kessler to retry the cases and re-award the eight pinocchios.

During a sorta-newsbreaking interview with Chris Wallace on Fox News Sunday, Issa disagreed with Kessler's ratings on his previous statements on Benghazi, one about whether then-Secretary of State Hillary Clinton issued stand down orders the night of the attack, and a second about the provenance of a House report that confirmed she did not. Here are Issa's statements from Sunday, with Kessler's responses:
Issa:
"The first one was for quoting something that was in somebody else's report, believing that it was true, which is an unusual way to get four Pinocchios."
Kessler:
"Someone else's report? He's apparently referring to 43-page "Interim Progress Report" issued on April 23, 2013, by five committee chairmen in the House: Reps. Howard "Buck" McKeon (Armed Services), Ed Royce (Foreign Affairs), Bob Goodlatte (Judiciary), Mike Rogers (Intelligence), and Issa…It's not enough to blame someone else's report — especially when it is your own."
Issa:
"Well, the use in answering questions in a political fundraiser, that was in response to a question, the term "stand down" is not used in some sort of an explicit way, but rather the failure to react, the fact that only State Department assets and only assets inside the country were ever used, that members of the armed forces, gun carrying, trained people were not allowed to get on the aircraft to go and attempt to rescue. Those kinds of things through State Department resources represent a stand-down. Not maybe on the technical terms of "stand down, soldier," but on what the American people believe is a failure to respond what they could have."
Kessler:
"In his response to Wallace, Issa moves the goal posts…Issa then tries to redefine the term "stand down" as "the failure to react," when in fact Panetta and DOD did react. He also claims that "members of the Armed Forces — gun carrying, trained people — were not allowed to get on the aircraft to go and attempt to rescue." He does not mention that the Special Operations commander in question later told investigators that the decision was correct in hindsight because his team otherwise would not have been in Tripoli to deal with the wounded arriving from Benghazi.

"We will also note that he does not deny to Wallace that he has no evidence showing that Clinton gave Panetta a stand-down order. That lack of evidence was the key reason he earned Four Pinocchios."
Issa even earned some pinocchios in real time on Sunday, as Lois Lerner's attorney disputed his claim that his client was set to testify before Issa's committee on Wednesday.
[h/t Washington Post]
[Image via screengrab]
——
>> Follow Evan McMurry (@evanmcmurry) on Twitter
Have a tip we should know? tips@mediaite.com