David Letterman's Preemptive Strike: Dave's NBC Attacks Air First On YouTube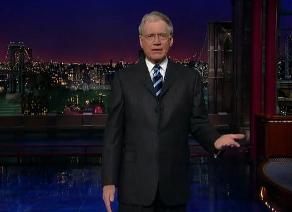 David Letterman didn't hold back, again, in bashing NBC and its late night woes on his Late Show tonight.
But in a move that combined new media savvy, playful ribbing and the acknowledgment many viewers would be tuning into the potential impending seminal late night moment when Conan O'Brien post-letter Tonight Show airs, CBS released all portions of Letterman's NBC jabs early on YouTube.
CBS gave some strong descriptions to the videos as well (all below). They ranged from "Dave comments on the crazy world of NBC late-night television" to "Dave analyzes the latest developments in the NBC late-night debacle." Debacle, crazy world – is there any doubt Letterman is not the only one at the Tiffany network thoroughly enjoying the train wreck happening at the Peacock network?
Here are a few notable quotes, but really, just watch all the videos (more than 14 minutes!):
• Letterman on NBC execs: "If they didn't know what they were doing they wouldn't be there" (laughter, applause from audience).
• Letterman on Leno's 10pm show: "Now the affiliates that carry teh NBC shows, they say 'We're out of here, we're going to Telemundo, leave us alone we're out of here. Put a camera on teh birdhouse we can do much better.'"
• "This whole mistake over there at NBC has cost them hundreds and hundreds and hundreds of million of dollars. Now the last thing they want to do, they just want Conan to quit and go away and do a show in his basement."
• "According to the New York Times, al-Qaeda is claiming responsibility for the wreckage at NBC."
And so on. Enjoy!
—–
» Follow Steve Krakauer on Twitter
Have a tip we should know? tips@mediaite.com