A burger chain based in the Washington, D.C. area apologized this week after releasing an ad making light of the death of journalist James Foley, who was brutally murdered on video by the terror group ISIS in 2014.
"When you say you want a burger and someone says okay let's hit McDonalds," tweeted Z-Burger in a meme that included a picture of Foley's execution above the words, "you disgrace me."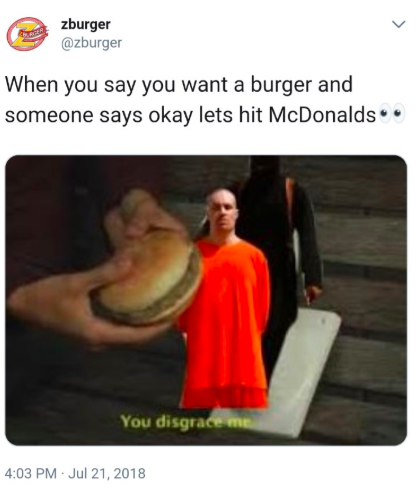 "I just don't know what happened in this incident," Z-Burger owner Peter Tabibian said in a statement. "We are investigating to see what exactly happened."
The owner added that the North Carolina-based media firm Valor Media was responsible for the ad, as they handle all the chain's social media content, but Tabibian added that he does not "want to make any excuses for Valor Media."
"[Valor] said to me he hired someone new, but I'm really not happy about what happened," he added. "We're investigating this heavily and trying to make the right decision."
Self-described "influencer" and "viral movement creator" Michael Valor — who has an off-brand Logan Paul vibe about him — is the chief of Valor Media and verified that his team was responsible for the tweet joking about the beheading of an American journalist.
"Z-burger had no part in the creation of this content or its release," Valor said in a statement. "We're trying to make sure nothing like this happens again. We're a young company, and we're human, but I take full responsibility."
In quite possibly the most cringe inducing apology ever, Valor proceeded to release a three part video series in which he used his young age to deflect from the criticism toward his company and suggested that those going after his company for laughing about the murder of a journalistwill also make mistakes in the future.
Part 1 : Valor Media Apology #DC #Washingtonian #news @washingtonian @willsommer pic.twitter.com/ipU5yETLF8

— Michael Valor (@ValorCorp) July 23, 2018
Part 2: Valor Media Apology : @washingtonian @willsommer pic.twitter.com/8pvYWK1j6b

— Michael Valor (@ValorCorp) July 23, 2018
Final : Valor Media Apology @washingtonian @willsommer ? hope this helps shed some light . pic.twitter.com/3xr3vJbOZY

— Michael Valor (@ValorCorp) July 23, 2018
[image via screengrab]
— —
Follow the author on Twitter (@calebecarma).
Have a tip we should know? [email protected]