Debbie Wasserman Schultz Gets In Fight With On-Air Personality Over LA Mayor Antonio Villaraigosa
Debbie Wasserman Schultz Gets In Fight With On-Air Personality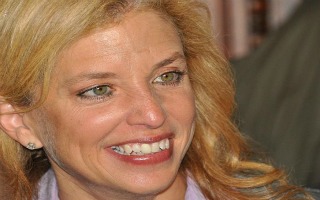 On Monday, KABC Los Angeles host Doug McIntyre invited Democratic National Committee Chairwoman Rep. Debbie Wasserman Schultz on his program and almost immediately got into a heated discussion about Los Angeles Mayor and Democratic National Convention Committee Chair Antonio Villaraigosa.
"You selected Los Angeles Mayor Antonio Villaraigosa to be the chairman and, I have to be honest with you chairwoman, we got a chuckle out of that," said McIntyre. "We understand it as casting because of the outreach for the Hispanic vote but, I mean, really? Antonio Villaraigosa?"
"What are you talking about?" Wasserman Shultz asked. "The mayor is a fantastic choice. He is a national leader, he is about to assume the highest leadership position at the National Association of Mayors. He is a visionary." Wasserman Shultz went on to praise Mayor Villaraigosa's leadership on education and ensuring the strength of the California economy as well as being a leader in the Hispanic community.
RELATED: Debbie Wasserman Schultz On Limbaugh Apology: Most Women Don't Think Being Called A Slut Is A Joke
"Here's the problem: We live here," McIntyre interjected. "Los Angeles can't even pave its sidewalks. There might be a vision – the vision that Antonio Villaraigosa is a desperate vision of getting out of office before the bankruptcy of Los Angeles kicks in in 2013… He is hoping like hell that Obama wins so that he could be appointed assistant secretary of anything so that he doesn't have to sit here and deal with the damage that he did to the city. You can sell that in North Carolina, but you can't sell that in Los Angeles."
"With all due respect, I find your comments disappointing and borderline offensive," Wasserman Shultz responded.
"What's borderline offensive? Los Angeles Magazine dubbed him a failure," said an incredulous McIntyre. "He's never here – city hall should be at Los Angeles International Airport."
"Well I beg to differ," said Wasserman Shultz. "You're entitled to your own opinions. We believe that Mayor Villaraigosa… is a strong leader and will be a strong voice for making sure that when it comes to drawing a contrast between the Republicans, who want to make sure that we can return to the failed policies of the past, stand up for tax cuts breaks for millionaires and billionaires and embrace extremism in cultural issues, Mayor Villaraigosa, who will be the permanent general chairman at the convention, will help make sure that we can get the president's message and his record of accomplishments to spread across the country…"
McIntyre interrupted Rep. Wasserman Shultz. "Well, the mayor of Los Angeles was hit with the largest ethics violations in the 200 year history of the city, three of his campaign bundlers are doing the perp walk and if it wasn't for millionaires and billionaires there wouldn't have been a shovel stuck in the ground in Los Angeles in the last five years."
Listen to the audio of the exchange below, via KABC 790 AM:
h/t Fox News Nation
Have a tip we should know? tips@mediaite.com