Debt-Buying Organization Accuses John Oliver of Stealing Their Idea and Running With It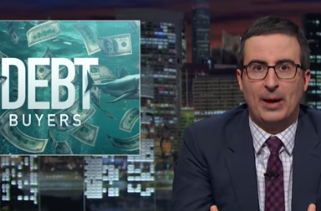 Yesterday, everyone was talking about John Oliver because on his show Sunday night, he announced that he had created a debt-buying company, bought up the debt of thousands of Texans, and then forgiven it. The whole thing was a great exercise in feel-good television. There were jokes throughout the segment and they were followed by a sweet message at the end. It was like an after-school special at 11 p.m. on a Sunday. The selfless benevolence was practically all-consuming.
Except that it wasn't, according, at least, to one established debt-buying organization.
Debt Collective, by its own definition, is "a new membership organization that leverages collective power by offering debtors a shared platform for organization, advocacy, and direct action." It is an offshoot of Rolling Jubilee, "a Strike Debt project that buys debt for pennies on the dollar, but instead of collecting it, abolishes it." The organization and direct action of both include strikes, campaigns, and awareness-raising activities.
In a new blog post, they claimed that one of Oliver's researchers for Last Week Tonight, Charles Wilson, called them eight months ago and spent hours on the phone with them, learning about debt buying and forgiveness. Because LWT has a history of advocacy that the organizers at Debt Collective support, they emailed with Wilson for months. At the last minute, the correspondence reportedly stopped.
In DC's words:
At the last minute Wilson told us LWT did not want to associate themselves with the work of the Rolling Jubilee due to its roots in Occupy Wall Street. Instead John Oliver framed the debt buy as his idea: a giveaway to compete with Oprah. The lead researcher who worked on this segment invoked the cover of journalism to justify distancing themselves from our project … Whether LWT obscured the work of the Rolling Jubilee because it disagrees with our politics or wants to avoid inconvenience of having to acknowledge influence, we are disappointed. While we are happy that attention is being focused on the destructive nature of the debt collection industry, we ultimately believe that the only solution is for debtors to join together to challenge the underlying economic system that puts people in debt in the first place.
If their claims are true, this puts a damper on the warm fuzzies inspired by Last Week Tonight's big debt forgiveness unless, of course, you happen to be one of the 9,000 people whose debt was erased.
At last count, Rolling Jubilee has abolished $31,982,455.76 of debt, so in the end, people are still benefitting from their work, whether they get recognition or not.
[image via screengrab]
For more from Lindsey, try Twitter or Facebook.
Have a tip we should know? tips@mediaite.com