Dem Rep. Apologizes for Using the Word 'Farmer' as Insult Against GOP Senator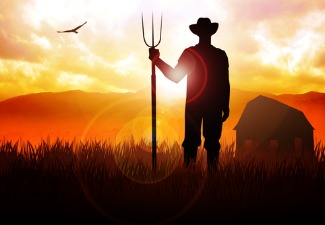 There are groups you want to be careful you don't offend when you're in political office. Farmers are one of them. But Iowa Democrat Bruce Braley used "farmer" as an insult against Iowa Republican senator Chuck Grassley and ended up having to apologize as a result. Braley is running to replace Iowa's other senator, Democrat Tom Harkin, and warned people at a fundraiser that if the Republicans take the Senate in November, "a farmer from Iowa who never went to law school" will serve as the next chair of the Senate Judiciary Committee.
The comment was captured on video, akin to Mitt Romney's infamous "47 percent" moment, and Grassley's office issued a swift condemnation of Braley's remarks, suggesting "by the logic expressed on this recording a trial lawyer shouldn't be involved in policy making about agriculture, or energy, or health care."
Braley ended up issuing an apology profusely apologizing for the swipe, in which he takes great care to emphasize how much he loves farmers.
My parents both grew up on Iowa farms during the Great Depression. It deeply influenced who they are and who I am, and gave me a profound appreciation for what farmers do for the world. One of my grandfathers was a charter member of the Iowa Farm Bureau. I grew up in rural Iowa, doing farm jobs and working a grain elevator. I have tremendous respect for Iowa farmers and appreciate how important they are to our state, and I'm grateful to have the support of hundreds of farmers across Iowa.
You can watch the video below:
[h/t TPM]
[photo via Shutterstock]
— —
Follow Josh Feldman on Twitter: @feldmaniac
Have a tip we should know? [email protected]
Josh Feldman - Senior Editor