Democratic Candidates Declare Support For Syrian Refugees Amid Republican Opposition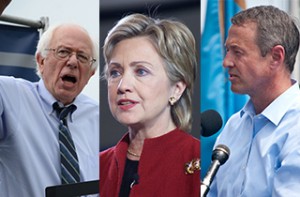 While the list of states refusing to accept refugees grows to 27, and leading Republican presidential candidates call on President Barack Obama to end the U.S. Refugee Program, Democratic candidates this week declared continued support for accepting Syrian migrants into the United States.
"We've got to be tough, but not stupid," Bernie Sanders told a crowd Monday in Cleveland, OH. Sanders also warned the audience of the tendency for people to regress towards "Islamophobia" in the wake of terror attacks.
"I am disturbed by some of what I am hearing from my Republican colleagues," Sanders said, noting he would not support enacting federal legislation barring Syrian refugees from relocating in the United States.
"During these difficult times as Americans, we will not succumb to racism," he declared. "We will not allow ourselves to be divided and succumb to Islamophobia." Sanders said that people fleeing war-torn Syria "have lost everything," adding the United States "will not turn our backs on the refugees."
Democratic candidate Martin O'Malley echoed a similar sentiment, telling The Des Moines Register, "There are women, there are children dying." O'Malley insisted the United States should not resort to military force if it is not prepared to be a worldwide humanitarian leader.
"They are fleeing the same sort of carnage that was unleashed on the people of France and the violence that brought down that airliner," O'Malley said. "I don't think it's too much to ask of us that we do our part here."
Hillary Clinton also waded into the debate Tuesday, saying in a statement, "we cannot allow terrorists to intimidate us into abandoning our values and humanitarian obligations."
Placing an emphasis on safety, Clinton said she believes America needs "to be vigilant in screening and vetting any refugees from Syria" to "ensure those in need are granted safety while keeping out anyone who would seek to do us harm."
[Images via Wikimedia Commons]
—
>> Follow Elizabeth Preza on Twitter (@lizacisms)
Have a tip we should know? tips@mediaite.com