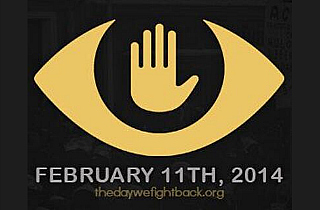 Tuesday, Feb. 11, was officially declared "The Day We Fight Back" by anti-mass surveillance activists, launching a massive Internet campaign that included support from people with a wide array of political backgrounds.
Sponsored by groups like the American Civil Liberties Union and Amnesty International, along with social websites like Reddit and Tumblr, the day of action sought to inspire those opposed to the National Security Agency's surveillance activities to call their elected officials and demand reforms and privacy protections.
The Internet-based movement generated hundreds of thousands of social shares, including supportive tweets by elected officials from both parties:
Proud sponsor of #USAFreedomAct 2 protect privacy & civil liberties, reform the #NSA & #FISA court http://t.co/jGjPVTxv00 #TheDayWeFightBack

— Tom Udall (@SenatorTomUdall) February 11, 2014
The NSA is out of control. #NSA #StopTheNSA pic.twitter.com/PZeVjv2imk

— Bernie Sanders (@SenSanders) February 11, 2014
I support 'The Day We Fight Back' protest against NSA domestic surveillance. Mind your own business, NSA! https://t.co/L3ed0EvZvH

— Rep. Alan Grayson (@AlanGrayson) February 11, 2014
I invite you to join me in the fight against the NSA surveillance program. Today is the day we begin to fight back: http://t.co/8BSVf49CIi

— Senator Rand Paul (@SenRandPaul) February 11, 2014
RT if you want to #StoptheNSA from collecting your metadata. Today is #TheDayWeFightBack in the name of privacy. @DayWeFightBack @EFF

— House Judiciary Dems (@HouseJudDems) February 11, 2014
Several web companies got in on the action as well:
It's time to reform government surveillance. Join us in speaking up to Congress: http://t.co/RKsmb7UuSm #thedaywefightback

— A Googler (@google) February 11, 2014
The Day We Fight Back: http://t.co/qv0GNLwQc5

— Tumblr (@tumblr) February 11, 2014
And some non-profits:
More @CatoInstitute valentines for liberty-lovers: http://t.co/YhlLjiZg1O #StopTheNSA #TheDayWeFightBack #NSA pic.twitter.com/OR53VKdvPs

— Cato Institute (@CatoInstitute) February 11, 2014
FreedomWorks is supporting #TheDayWeFightBack. It's time to #StopTheNSA! https://t.co/xmIh8KUzft

— FreedomWorks (@FreedomWorks) February 11, 2014
View more examples here, via Politico.
The day of activism preceded Sen. Paul's anticipated Wednesday announcement of a lawsuit against President Obama, the NSA, and others involved in the collection of private personal data.
— —
>> Follow Andrew Kirell (@AndrewKirell) on Twitter
Have a tip we should know? tips@mediaite.com