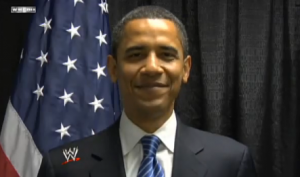 Hasn't anyone noticed that attacking Connecticut Republican Senatorial candidate Linda McMahon for her past helping run World Wrestling Entertainment doesn't seem to be working? Just one day after McMahon's won the primary despite opponents like Peter Schiff trying to use WWE clips against her, Democrats attempted to use the same exact tact. Unfortunately for them, Republicans have a pretty good rebuttal. As The Daily Caller points out, if the WWE is such a child-warping evil, why did President Obama appear on it?
From The Daily Caller:
"On Tuesday, Democratic Senatorial Campaign Committee spokesman Eric Schultz called WWE programming 'violent, sexually explicit material that glorified the exploitation of women, and the mentally disabled.' Democratic National Committee spokesman Hari Sevugan accused the GOP of nominating 'a candidate who kicks men in the crotch, thinks of scenes of necrophilia as 'entertainment,' and runs an operation where women are forced to bark like dogs,' referring to sketches that appeared in WWE programming during McMahon's tenure as CEO.

Republicans fired back, asking why Democrats did not voice similar concerns about McMahon's entertainment company when their candidates agreed to appear on "WWE RAW" two years earlier.

'It is hypocritical," said Chris Healy, chairman of the Connecticut Republican Party. 'They were more than eager to enlist WWE when it served their purposes and when it doesn't, they trash them.'"
Democrats hit back by pointing out that Obama and Hillary Clinton only guested on the show whereas McMahon ran a fairly sleazy company:
"'This is an odd attack that makes clear that Ms. McMahon's campaign doesn't get it,' said DNC National Press Secretary Hari Sevugan. 'The problem isn't with professional wrestling. The problem is with Linda McMahon either participating in, condoning or willfully ignoring steroid use, the denigration of women and lewd behavior in front of children — the examples of which were mentioned earlier. But, if the McMahon campaign wants to keep the focus on her life at the WWE that's fine with us.'"
The steroid issue is a good one as that has been a serious problem in the industry, but, in our opinion, the Dems are fighting a losing war with all of the other stuff. They can show as many clips as they want with McMahon on stage with scantily clad women and violent men, however the fact remains, whenever McMahon appeared on the show, she was basically just an actor in a soap opera. As we all know, right wing voters are not known for holding silly acting choices against politicians.
Honestly though, if anyone wants to attack professional wrestling for anything, it should be this clip which probably drove at least a few young people incurably insane.
Related question: Can you smell what the Barack is cooking? Find out what it is in the (hilarious) clip below.
Have a tip we should know? tips@mediaite.com