DHS: GOP Rep.'s Claim ISIS Members Caught at U.S. Border 'Categorically False'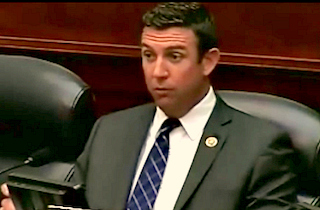 Congressional Republicans have been pushing the "ISIS At the Border" line so hard they may now be hearing things.
Representative Duncan Hunter (R-CA) told Fox News' Greta van Susteren Tuesday that "at least ten ISIS fighters have been caught coming across the Mexican border in Texas," saying he received the information from a border patrol source.
According to the Department of Homeland Security, which has been rebutting similar claims for weeks, that's bogus.
RELATED: Geraldo to Fox & Friends: Don't Mix Up War on Terror with Immigration Debate
"The suggestion that individuals who have ties to ISIL have been apprehended at the Southwest border is categorically false, and not supported by any credible intelligence or the facts on the ground," a DHS spokesman said in a statement today. "DHS continues to have no credible intelligence to suggest terrorist organizations are actively plotting to cross the southwest border."
One of Hunter's sources modified the claim after the congressman's comments, saying that those apprehended might be ISIS-affiliated or even American who fought with the Syrian Free Army, one of ISIS' many enemies.
Hunter didn't back down. "The Congressman was conveying what he knows — and what he was told," a spokesperson told ABC News. "It makes sense that the left hand of DHS doesn't know what the right hand is doing — it's been that way for a long time and we don't expect that to change."
[h/t ABC News]
[Image via screengrab]
——
>> Follow Evan McMurry (@evanmcmurry) on Twitter
Have a tip we should know? [email protected]