Dick Cheney Slams Obama For Nominating 'Second-Rate People' For Key National Security Posts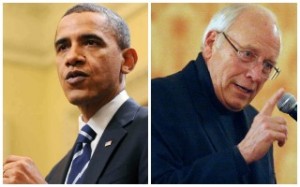 Former Vice President Dick Cheney isn't pleased with the President Obama's nominees for important cabinet positions — especially when it comes to national security. The president's picks are "second-rate people," he criticized.
"The performance now of Barack Obama as he staffs up the national security team for the second term is dismal," Cheney said during his remarks to the Wyoming Republican Party on Saturday.
We need "good folks" in these positions, he added, but "frankly, what he has appointed are second-rate people." Specifically, he cited national security interests and the importance of those who serve as secretary of state, CIA director, and secretary of defense. (For those posts, Obama nominated Sen. John Kerry, John Brennan, and Chuck Hagel — respectively.)
In taking issue with Hagel, Cheney further pointed to the impact potential cuts to U.S. military spending and the limitations Obama is putting on military preparedness.
Cheney said Hagel, a former Nebraska U.S. senator, was chosen because Obama "wants to have a Republican that he can use to take the heat for what he plans to do to the Department of Defense."

He said Obama's plans are to allow severe cuts in U.S. defense spending, which would limit the capability of the U.S. military to respond to future foreign crises well after Obama has left office.

"He is today … establishing what limitations will be on future presidents," Cheney said.
Cheney, in light of everything, then looked to Republicans to band together and improve the situation.
"I believe we're all going to pull together, work hard, dig in and do what needs to be done," he said.
(h/t AP)
Have a tip we should know? tips@mediaite.com