At a S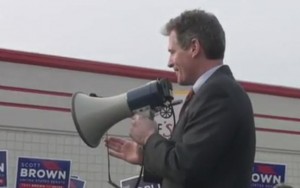 cott Brown rally in Worcester yesterday, a supporter of Brown's yelled a suggestion that they "shove a curling iron up (Martha Coakley's) butt." The clip is gaining traction, though, because of Brown's reaction to the outburst.  Initial reports had Brown smiling at the comment, but the video shows he may have responded by saying "We can do this." Or not.
Curiously, Politico reports the very kindest interpretation as fact: (emphasis mine)
The video above appears to show Brown smiling at the line and nodding, before returning to his message: "We can do this."
Huffington Post has a different take:
Usually, tying a candidate to the angry screams of his or her crowd can be a difficult supposition. But on Sunday night, video emerged that seemed to show the state senator acknowledging the curling iron remark as it transpired.
I'm inclined to give people the benefit of the doubt, but Brown's "We can do this" seems pretty clearly to be a direct response to an individual in the crowd. Politico's assertion that he was "returning to his message" isn't at all obvious.
That dosen't mean that Brown necessarily knew what he was responding to. He might have just registered a negative comment about his opponent, and made the response in the moment. "We can do this" might have actually been part of his prepared remarks, and he was simply smiling at the coincidence. Or, he might have heard the comment clearly and been so unnerved by the other guy shouting "Suicide!" that he didn't think before responding.
Any way you look at it, this is an unfortunate juxtaposition for Brown, one which his opponents will exploit. As for Politico, in a very short piece, they tilt way in favor of Brown, not only insisting that he wasn't responding to the rabble, but also uncritically justifying it: (emphasis mine, again)
The jibe isn't out of the blue: It's a reference to the charge, explored at length recently by the Boston Globe, that Coakley failed to aggressively prosecute a sexual abuse case involving a curling iron.
So, Coakley didn't deserve it, but she was kinda asking for it. Maybe someone's a little too addicted to those Drudge links.
Note: Mediaite contacted the Brown campaign for comment, and for a transcript of Brown's remarks, and we are awaiting a reply.
Update: New video from Crooks and Liars (h/t Sarainitaly) makes it pretty clear that Brown wasn't "continuing his message," and that if he wasn't reacting to what the guy said, the crowd sure thought he was. "We can do this" gets a huge laugh. Combine that with the original video, and it's clear he was interacting with the crowd.
As I said before, though, it's entirely possible Brown didn't hear exactly what the guy said, or maybe he was saying "We can do this!" to the guy who yelled "Suicide!" So, I do not think that this in any way proves that Brown approves of the curling iron remark. It sure does make Brown look bad, though.
Update 2: Scott Brown says he did not hear the remark, and would have said something if he had.
Have a tip we should know? tips@mediaite.com