Did The Taiwanese Animation Version Of Murdoch's Pieing Really Need A Sex Scene?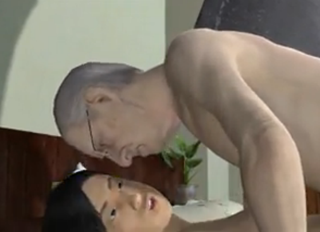 NMA News, the organization that prides itself on animating ludicrous renditions of top news stories, has kept mostly mum lately, churning out comparatively tame stories on Jennifer Lopez and"Lama drama." It took a force as fierce as Wendi Deng, Rupert Murdoch's wife, to awaken the best/worst in NMA once again, with a reanimation of her reaction to yesterday's pie attack that includes, for some reason, a rendition of attacker Jonnie Marbles being mauled by a tiger and a glimpse into the Murdoch's bedroom.
The video serves to update viewers on most of the recent developments surrounding the News of the World hacking scandal, though focuses much of its attention on Deng. After a particularly comical rehashing of the pie-tossing, the animators decided to give Deng's attack a bit of a twist, the NMA version involves her morphing into a tiger and consuming some of Marbles' flesh in front of the committee. The announcer then noted that "people are curious as to how he went through security," showing the TSA-like security apparatus in place for the hearing. Passing through was a conspicuous curly-haired redhead dragging a trashcan full of Oscar-the-Grouch substance and, ensconced therein, a laptop. Rebekah Brooks had arrived.
The video then shows a recreation of the LulzSec hacking of Murdoch newspaper The Sun's website, which looked far more like something out of Horatio Hornblower than a 2011 internet security breach, but the metaphor works as much as any other NMA News metaphor works. But they save the most horrific imagery for last. Apparently the only image the animators could come up with to convey to the audience that Murdoch was "very much alive" was animating the couple in an intimate moment, followed by Deng crying before a tomb labeled Rupert, and the announcer asking, "Does Wendi regret her decision to save him?"
The video via NMA News below:

Have a tip we should know? tips@mediaite.com