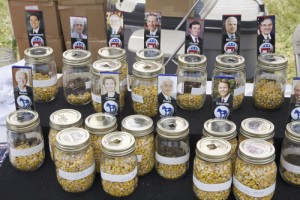 The long-running Iowa Straw Poll is no more. The state's GOP voted on Friday to put a stop the touted event because, according to chairman Jeff Kaufmann, not enough of the announced candidates were interested in participating. The vote was unanimous.
In a statement obtained by CBS News, Kaufmann said:
I've said since December that we would only hold a straw poll if the candidates wanted one, and this year that is just not the case. This step, while extremely distasteful for those of us who love the Straw Poll, is necessary to strengthen our First in the Nation status and ensure our future nominee has the best chance possible to take back the White House in 2016.
John Thompson of the Iowa GOP's central committee explained, "Part of the calculus is candidates that are willing to participate. Without their assistance it may be a net loss for the party."
Sure enough, Jeb Bush said he wouldn't be attending the event back in May. Mike Huckabee said the same on Fox & Friends a week later, calling the straw poll "meaningless" and "political theater." Sen. Marco Rubio (R-Florida) officially opted out, and Wisconsin Gov. Scott Walker has repeated refused to say whether or not he'd attend the event.
The death of the Iowa Straw Poll has been a long time coming, at least according to Iowa Gov. Terry Branstad and many other vocal conservatives in the state.
According to GOP strategist Rick Wilson: "It's a lovely historical artifact, and a wonderful tradition, but its lack of predictive power and its ability to skew the field for a few crucial weeks has led to nothing but trouble in the last few cycles."
Whoever or whatever the blame ultimately falls on, it's now official. The Iowa Straw Poll, the state GOP's biggest fundraiser since 1979, is no more. It has ceased to be. It's dead.
[h/t CBS News]
[Image via Shutterstock.com]
— —
>> Follow Andrew Husband (@AndrewHusband) on Twitter
Have a tip we should know? tips@mediaite.com