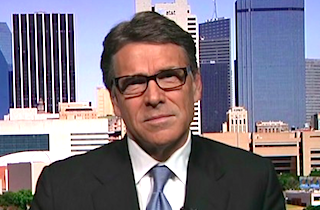 Earlier this week, during his press conference at the G7 Summit in Germany, President Barack Obama said in response to a question about the fight against ISIS, "We don't yet have a complete strategy, because it requires commitments on the part of the Iraqis."
The president's conservative's critics were quick to jump all over the statement as proof that the administration doesn't know what it's doing in the Middle East, a narrative that carried into an interview Dana Loesch conducted with former Texas governor and current Republican presidential candidate Rick Perry this week.
Perry said he was "stunned" that Obama would make those comments publicly and that he believed they provided some level of insight into the president's mentality on ISIS. The candidate suggested that if Obama hadn't expressed a "lack of engagement to stop ISIS" in Syria, then the U.S. could have somehow eliminated both the terrorist network and Syrian President Bashar al-Assad, despite the fact that they were fighting each other and knocking one side down would have only bolstered the other.
"It's this lack of really being able to connect the dots, I think it's a lack of executive experience that this president has, as well as a philosophical void when it comes to understanding what it takes to keep America safe," Perry added.
While this "executive experience" argument may have been a reasonable line of attack against Obama in 2008, now that he has been president for more than six years, it rings a bit hollow.
Listen to the full interview below (ISIS comments start at approx. 15:40):
[h/t RWW]
[Photo via screengrab]
— —
>> Follow Matt Wilstein (@TheMattWilstein) on Twitter
Have a tip we should know? tips@mediaite.com