Dispatches from Trump's Butler: He Likes Well Done Steak and Does His Own Hair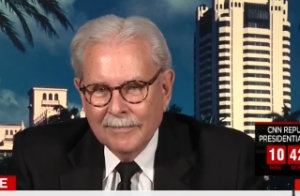 Donald Trump is a bombastic guy who is known for the loud, dramatic things that he says. The public is captivated by his theatrics, as evidenced by a secret conversation between Hillary Clinton and Chris Matthews last night. The private life of this very public person is pretty hush-hush, even though he has appeared on Howard Stern's show and regularly brags about his life.
Now, blessedly, The New York Times has brought us a feature on Trump's butler, Tony Senecal. His talk with the Times was infinitely better than his recent appearance on CNN, which involved a lot of one-word answers.
On his boss' preference for steaks:
"It would rock on the plate, it was so well done."
On Senecal's devotion to Trump:
Mr. Senecal knows how to stroke his ego and lift his spirits, like the time years ago he received an urgent warning from Mr. Trump's soon-to-land plane that the mogul was in a sour mood. Mr. Senecal quickly hired a bugler to play "Hail to the Chief" as Mr. Trump stepped out of his limousine to enter Mar-a-Lago.
On Trump's choice of headwear:
If the cap was white, the staff noticed, the boss was in a good mood. If it was red, it was best to stay away.
Senecal also recounted quietly standing by as Trump lied to guests in his estate, telling them Walt Disney designed the tiles in his daughter's nursery. He said he began to tell lies himself, letting Trump believe that when he hit a golf ball 225 yards, he really hit it 275.
Finally, before you click over and read it yourself, just know that Trump does his own hair even though he has a salon on the premises.
[image via screengrab]
For more from Lindsey, follow her on Twitter.
Have a tip we should know? tips@mediaite.com