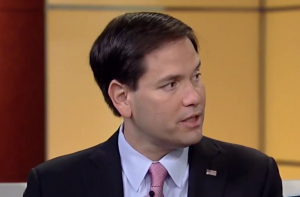 There's been some reeeally dumb non-troversies in recent years, pushed by partisans looking to score cheap political points. But the line of attack launched today by DNC chair Debbie Wasserman Schultz has to be among the dumbest.
The "controversy" of the day: Marco Rubio will be walking into a house tonight in which, somewhere, there is Nazi memorabilia.
INBOX: DNC Chair Responds to Marco Rubio's Yom Kippur fundraiser at a home that features Hitler's art pic.twitter.com/HnQ2RpCbzk

— Ben Jacobs (@Bencjacobs) September 22, 2015
The DNC press release blasts Rubio for holding a fundraiser on the Jewish holiday of Yom Kippur at the home of Texas Republican fundraiser Harlan Crow, who owns several Hitler paintings, a signed copy of Mein Kampf, and Hitler's former linens. "Holding an event in a house featuring the artwork and signed autobiography of a man who dedicated his life to extinguishing the Jewish people is the height of insensitivity and indifference," Wasserman Schultz writes. "There's really no excuse for such a gross act of disrespect."
Of course, the DNC never says the art collector is a Nazi sympathizer. They leave that unsaid. After all what kind of monster buys a Hitler painting and a signed copy of Mein Kampf?
Of course, what the DNC neglects to say is that Crow's Nazi memorabilia is part of a personal library and artifact collection that includes thousands upon thousands of historical documents. The Dallas Morning News had a fascinating piece about the collection earlier this year:
The Harlan Crow Library is in a wing of Crow's mansion. It holds thousands of rare books, manuscripts and artwork related to American politics, science and literature. It has a small stage where children can perform or act out skits, Crow said. A full-time librarian and a part-time librarian work at the library, he said.

"I have what I hope is a very fine collection of manuscripts and books pertaining to American history. And to the extent that I can share that with people from the area in a way that is educational and enjoyable, then I feel like I've done a good thing," he said. "And that has been and continues to be what I want to do."

…

Over the past 40 years, Crow has collected thousands of documents, manuscripts and works of art that span centuries. "Many people have their own hobbies and have vocations," he said. "American history is mine."

Among his favorites, Crow counts an Abraham Lincoln syllogism about the evils of slavery, a copy of Poor Richard's Almanac and a letter written in 1493 by Christopher Columbus, after his first trip to the New World. The collection has paintings by Renoir and Monet and by Winston Churchill, Adolf Hitler and Dwight D. Eisenhower.

A sculpture garden includes likenesses of Churchill and Margaret Thatcher, the late British prime minister.

It also has busts of dictators, including Russian communist leader Vladimir Lenin, Romanian dictator Nicolae Ceausescu and Yugoslav dictator Josip Broz Tito. Crow has said the collection is not intended as a celebration of repressive regimes but to preserve a part of world history.

…

Crow said he enjoys sharing pieces of history with friends, scholars and students. He said he's always searching for new treasures, with the help of dealers and auction houses. On a recent trip to England, he discovered a document printed in July 1776 as ordered by the Constitutional Convention. He plans to add it to the collection.
Yeah, see that small part I bolded about Hitler? That's how insignificant the "Nazi memorabilia" is when taken for what it is: one small part of a massive library celebrating history.
It may very well be that there are actually some Jews out there who are offended by the notion that Marco Rubio will enter a house, where somewhere there is a library, and somewhere in that library of thousands of historical documents is Hitler's old napkins. But I suspect the vast majority will agree with me that this is taking sensitivity a little too far.
And please, let's not drag Yom Kippur into this. Wasserman Schultz herself says, "An event at a home with items like these is appalling at any time of the year." So she honestly seems to believe no one should come within 500 feet of anything Hitler has ever touched for the rest of their lives.
As I was writing this column, I was going to say that I was thankful that no outlets had yet taken the bait… but Politico and Salon already have pieces up. Salon's oh-so-truthful headline is "Marco Rubio slated to attend fundraiser at Hitler art collector's home on Yom Kippur eve." I'll let you decide if "Hitler art collector" is a fair characterization of Crow, but I think it's pretty clearly deceptive.
Really, this is only good news for Rubio. If this is actually the worst dirt his opponents can dig up, he's looking at an obstacle-free path to the presidency.
UPDATE (4:57 PM ET): For what it's worth, The Free Beacon points out that Crow's mother was nearly killed by the Nazis when they sank a ship she was on. So safe to say, he probably isn't big on the Nazis.
[Image via screengrab]
——
>>Follow Alex Griswold (@HashtagGriswold) on Twitter
Have a tip we should know? tips@mediaite.com