DNC Vice Chair: I Was Disinvited from Dem Debate After Calling for More Debates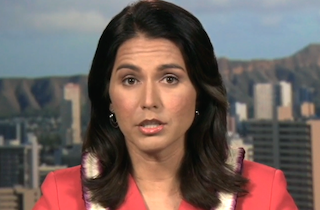 One of the Democratic National Committee's own vice chairs claims that she was disinvited from tomorrow's debate after she publicly called out the DNC for too few debates.
The Democrats only have six official debates this cycle––the first airing on CNN tomorrow night––and despite many calls from protesters and candidates, DNC Chair Debbie Wasserman-Schultz has stuck to that plan.
A few weeks ago, Rep. Tulsi Gabbard (D-HI) and fellow DNC vice-chair R.T. Rybak publicly called out the DNC and demanded more debates, and Gabbard has been on TV saying the same thing.
Well, yesterday, Gabbard told The New York Times that just a day after she made a cable news appearance, Wasserman-Schultz's chief of staff told her she was disinvited from the first debate.
Now, lest you think this was done for a petty reason, an anonymous person close to the decision explained what's really going on here:
A person close to the committee who asked for anonymity to discuss internal discussions insisted, however, that Ms. Gabbard had not been disinvited. Instead, the person said, an aide to Ms. Wasserman Schultz expressed a desire to keep the focus on the candidates as the debate approached, rather than on a "distraction" that could divide the party, and suggested that if Ms. Gabbard could not do that, she should reconsider going.
A DNC spokeswoman added, "All that was asked of Ms. Gabbard's staff was to prioritize our candidates and this important opportunity they have to introduce themselves to the American people."
Gabbard doesn't buy that, and as far as she's concerned her freedom of speech is being muzzled.
Today, however, the Bernie Sanders campaign extended an offer to Gabbard that would allow her to attend by going around the DNC's disinvitation. Sanders campaign manager Jeff Weaver said today, "If she needs a ticket, have her give me a call. I think we have a couple; we can give her one."
[image via screengrab]
— —
Follow Josh Feldman on Twitter: @feldmaniac
Have a tip we should know? [email protected]
Josh Feldman - Senior Editor