Do You Have A Pat Robertson Roleplaying Sex Fetish? Fear Not, This Virginia Couple Wants You…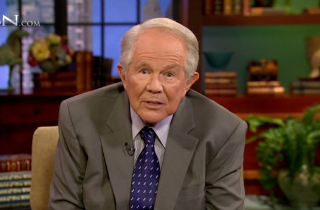 Craigslist can be a strange, strange place.
Uproxx's Ashley Burns points readers to a particularly bizarre listing that seemingly belongs in the highly-NSFW "Casual Encounters" section, but somehow made its way to the "Activity Partners" section.
In the post, a "middle aged" couple in their "late-40s" seek the presence of another couple, dressed up as televangelist Pat Robertson and a Home Shopping Network pitch-woman, to watch them have sex.
In addition to the oddly-specific dress code for the saleswoman, the couple requests that the onlookers act out their characters — i.e., the Robertson impersonator must constantly talk about saving their souls and the woman should try to "sell us an Ab Rocket in 3 easy payments" — all while the original couple makes sweet love before their very eyes.
Under the headline "Middle aged bored couple," the listing reads:
Both male and female late 40′s seek adventurous couple for fun times. We seek another couple for a night of fun so we can check off another on our bucket list. We would like the man to dress up and play the part of Pat Robertson and the female to wear a tight blue dress and act like she is a sales spokesperson on Home Shopping channel. My husband I would be naked and making love in our bed all the while Pat Robertson will be constantly attempting to save our souls and the female to have ongoing dialogue trying to sell us an Ab Rocket in 3 easy payments. We are open to possibly videoing the event as long as each of you sign a disclaimer. Pl;ease [sic] place the word "damnation" as subject line.
I'm no sex therapist, but it seems as though this couple has a thing for uptight television personae trying to sell you salvation or exercise products. And if any of our readers have a fetish for acting out Robertson's divine rantings while watching people have sex, then you've come to the right place.
[h/t Uproxx]
— —
>> Follow Andrew Kirell (@AndrewKirell) on Twitter
Have a tip we should know? tips@mediaite.com