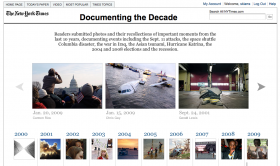 Wow. That is what you think when you look through some of the 667 reader images the NYT selected to showcase this decade, and impart its events and its impact. It's an extremely meta feature, summing up the inexorable switch to interactivity of the last ten years — All The News That's Fit To Print used to be about picking what readers should see and know, and now readers are not only deciding for themselves, they're making the content themselves, too — but also, on its face, is just an amazing collection of images that are beautiful even when they are heartbreaking (photos of September 11th smoke against a blue, blue sky will always have a terrible beauty to them) and far-flung in their origin, subject matter and the stories they have to tell.
From the NYT "Lens" blog:
No further proof is needed that we're in the era of the "citizen journalist" than the images coming daily from Tehran. But this gallery reminds us that most of the traumas of the last decade — as well as its triumphs — had public witnesses who were as well-equipped to record the moment as many professionals. The Times asked you to help us document the decade and you responded with some astonishing photographs and essays. Thank you.
There were over 2,360 submissions, and I can see how they settled on 667 for the slideshow — how possibly to pare down this collection? It's amazing. Here are just a few of the images: A teacher working abroad in China. Bill and Chelsea Clinton in Nashua, New Hampshire during the 2008 primary. A march against the Iraq war. The debris of Hurricane Katrina, and the pieces of lives that were lost; a memorials at Ground Zero; a little girl in Zambia, in the midst of the African AIDS crisis, and a flourishing sex trade; the Blackout; the 35W Minneapolis bridge; Sully's plane, half-submerged; the Tsunami.
There are more — obviously — including images from Iraq and Israel, of Obama on the rise and as a new president; of people homeless and jobless; and — despite the fact that the NYT dubs it "A Brutal Decade" — even some sweet, uplifting photos.
This is an amazing thing the NYT has put together. I recommend it.
Have a tip we should know? tips@mediaite.com