Does David Pogue's New Relationship With PR Exec Constitute A Conflict Of Interest?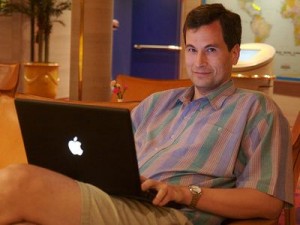 Influential New York Times tech reviewer David Pogue might have done some damage to his reputation by not immediately disclosing his relationship with Nicki Dugan, vice president of San Francisco's OutCast Agency PR firm. Dugan's firm happens to represent tech companies of which you may have heard. Like, oh, Facebook.
The Daily Beast spoke to The New York Times about the relationship:
Pogue's editor at the New York Times, Damon Darlin, says that Pogue told him about the relationship last December. "He was concerned that there might be a perception of a conflict of interest, so we went over it," says Darlin, adding that he determined that as long as Pogue didn't write about companies that Dugan personally represents, there would be no problem. He says he also asked OutCast not to pitch stories to Pogue. "People have romances all the time," says Darlin. "He hasn't written about any companies that she is representing." (Neither Pogue nor Dugan returned a message for comment.)
Of course, Pogue has mentioned OutCast clients in his articles since he and Dugan's relationship began, albeit not necessarily fawningly nor in ways where a disclosure would be absolutely necessary. Still, it's usually better to be safe than sorry, where the trust of your readership is concerned. Why not, if you had the choice, be transparent rather than not?
The Times official take on divulging relationship is as such:
Romantic involvement with a news source would create the appearance and probably the reality of partiality. Staff members who develop close relationships with people who are likely to figure in coverage they prepare or oversee must disclose those relationships privately to a responsible newsroom manager. In some cases, no further action may be needed. But in other instances staff members may have to recuse themselves from certain coverage. Sometimes assignments may have to be modified or beats changed.
Of course, there is a bit of irony at play in such an article appearing in The Daily Beast, which had to deal with a similar issue a while back.
You might recall that, back in January, Daily Beast Washington bureau chief Howard Kurtz found himself in a bit of hot water after he had neglected to divulge that his interview with Rep. Darrell Issa never actually, you know. Happened.
Kurtz eventually came clean about the mix-up, but not before his readers and others in the media criticized him for waiting a month to divulge this information.
h/t Daily Beast
Have a tip we should know? tips@mediaite.com