Trending: Texas Gov. Rick Perry Latest Possible GOP Candidate To Get Media Tryout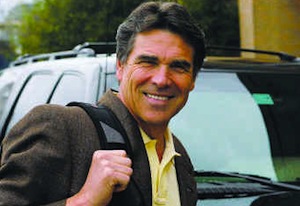 The past few months have been rough for prospective Republican presidential candidates, as the political media has chewed up and spit out the candidacies of pretenders like Donald Trump, wilting contenders like Mike Huckabee, and declared personality blips like Tim Pawlenty. Current frontrunner Mitt Romney already has a date with a political Death Panel over Romneycare, and within days of declaring, former House Speaker Newt Gingrich was already slumped in his corner, exclaiming "Cut me, Mick!"
Now, Texas Gov. Rick Perry is about to step into that meat-grinder, as his self-imposed deadline to declare his intentions expires today.
Perry has said that he would wait until the end of Texas' legislative session to declare his intentions. In a brief, padded-out interview with The Daily Beast, Perry drops only the meagerest of hints, making the case for a late entrant into the fray:
"This is a very different time in America," he says. "Different ways to run campaigns. There are those out there who will say that there's plenty of time to decide who's going to carry our banner. And I think that's probably correct. So, the idea that, what are we, 18 months from election, that we're going to settle on who the nominee's going to be might be rather premature."
He also concludes the interview with a metaphor about his experience as Governor:
"My son is getting his pilot's license. I'm really happy for him. I don't want him flying my airliner. Some day, I may want him to. I happen to be a rather highly trained aviator. The federal government spent a lotta money training me to be a very, very talented and capable aviator. I've got over 7,000 hours of flight time. There are my classmates who are still sitting in the left seats of triple 7's and 737s. That's who I want flying me when I go from Point A to Point B. I suggest to you that's a good analogy for any profession, whether it's the doctor operating on you or the person you want running your country."
Depending on how long Perry waits to announce his decision (he had previously said he wouldn't run), the Texas Governor should get at least a few days of look-see from the national press, who will likely rip him over his flirtation with secession (which The Beast fails to mention), to the strains of Texas secessionists screaming "We hate the United States!"
Perry's chances in the Republican primaries are probably better than most in the current field, if he decides to run, but his secessionist rhetoric, hardline conservatism, and the shadow of George W. Bush will make the general election a steep climb.
Have a tip we should know? tips@mediaite.com